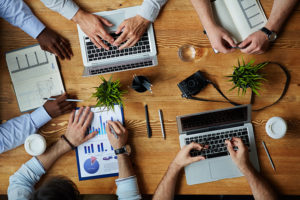 5 Reasons Why You Should be Outsourcing Your Sales
Whether your sales have plateaued or you are just tired of failing your sales process. If you're simply struggling to find the time to recruit, train and manage the best possible sales team to suit your needs, there are several outstanding reasons to consider outsourcing your sales. Below are the top five reasons that all businesses should consider.
#1 – Focus on your Core Competence
Let's face it – recruiting, training, and managing an entire sales team is a lot of work, and anything that is a lot of work takes a lot of time. In the traditional direct-hire setting, salespeople tend to come and go as they look for the right "fit" for their own unique needs. When you choose to outsource, you allow an expert to choose the right salespeople for your company from a very diverse pool. This saves you tons of time recruiting and training, and it helps to ensure that you get the right people from the start.
#2 – Scaling Your Business
If your company is a relatively small one, or if you're gearing up to take advantage of growth, then you may not have the ability to hire a full sales team to work for you right away. You should set your company up for organic growth, and outsourcing your sales is one of the best ways to do this. Later, as your company grows and the need for permanent salespeople becomes more obvious, you can still choose to hire your own in-house sales team.
#3 – CRM and Technology Training
It can be very difficult to train and manage every new salesperson who comes through the door on how to use your CRM software and other technologies designed to improve your company's efficiency and profitability. When you choose to outsource, experts will help you find salespeople who are already trained to use CRM and other technologies that benefit your company and manage your sales process.
#4 – Diversity in Expertise
Part of being successful in sales involves finding the unique value in the product or service you're selling, and the best way to do that is with a diverse sales team. When you choose to outsource your sales, you can feel confident that the company managing your team will help you find the very best people for the job based on factors like your location, your business culture, and the overall message you want for your brand.
#5 – More Focus on Lead Generation
Finally, of all the reasons to consider outsourcing your sales, the ability to focus more of your time on marketing is by far the most compelling. Marketing ensures that your products and services reach the eyes and ears of the people who are most likely to receive it. When you leave it to an expert to help recruit, train, and manage your sales team, you can pour your energy into better and more effective marketing campaigns that give those salespeople the best pool of leads possible. Acquirent provides both sales outsourcing and sales-minded marketing services to give your company a significant advantage in even the most saturated industries.
Outsourcing your sales can serve many important purposes. It can save you time and allow you to focus more of your energy on marketing, it can make scalability and growth much simpler, and it can even give you access to a diverse talent pool that may not otherwise be available to you.