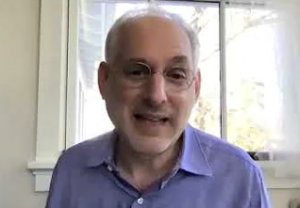 Looking Beyond the Pandemic with Dr. Adam Goodman
Dr. Adam Goodman serves as director of Northwestern University's Center for Leadership and is a clinical professor at McCormick School of Engineering and Applied Science at Northwestern. For many years he worked in the private sector as a consultant, but has transitioned to a teaching position full-time. In this special two-part interview, Joe Flanagan asks him about the trends he sees in our future. Will we go back to business as usual? Or is the world of the office changed forever?
We've now reached the one-year anniversary of the global pandemic, no matter where you place the starting date. For us in the greater Chicago area, we likely all remember last year's St. Patrick's Day, where people were continuing to go out in spite of the warnings for one last hurrah. A year later, tremendous and unprecedented changes have occurred in our country's leadership, vaccine rollout, and the day-to-day life of office workers.
Vaccines are now being distributed, and some are already planning their return to normal life. Is this feasible? Dr. Adam Goodman shares his thoughts.
The Limits of a Distributed Workforce
A distributed workforce is a team that is not physically together. Pre-COVID, larger non-geographically centered companies were able to leverage this model primarily among the tech sector – coders who were working across the globe. While it wasn't necessarily common, it was a feature in many organizations both large and small. Critically, it was dependent on the type of work that they did.
Companies that do not rely on people necessarily having to be in the same office have seen the ways in which this works, and the ways in which it does not. For instance, a company like Acquirent can function perfectly well without everyone having to be in the same office. Most of the business that we do is over the phone – to close deals, we don't need to have a physical office space.
But in exchange, a lot of what makes our company special from a cultural perspective has declined. When clients came to visit us in our office, they were stuck by the community that we had formed. One of the greatest parts of our in-person office was our authenticity. We weren't just a sales organization, but a community of sales people.
We can still host digital training sessions, and can still meet and exceed the needs of clients. But something got lost along the way. These challenges need to be addressed.
How Leaders Must Address a Return to Work
Timing, safety, workplace issues – a lot of problems face employers looking to go back to the office. Leadership needs to be able to address these needs in an understanding way. Hybrid models of returning to work have become increasingly popular.
Dr. Goodman believes that there will not be a complete reversion to what we saw pre-COVID, but that there is too much hype around hybrid or remote models. He suspects that the ways in which people were physically together will return in a significant way. Some exceptions will likely remain.
Work can take place outside of an office, and there haven't been any substantial changes to productivity since people have begun working from home. But the connective aspects of an organization are not being addressed. Turnover in a pure remote setting is likely to be higher. Collaboration can't take place virtually. Remote instruction is possible, but filled with roadblocks.
Dr. Adam Goodman Believes Things Will Largely Return to Normal
Thanks to the pandemic, companies have been forced to adopt new technologies in a way that is virtually unprecedented. "Zoom" entered our vocabulary. New strategies and management techniques have been tried, implemented, and perfected. Yet in spite of this, the situation isn't ideal.
Adam Goodman stresses that people feel a need to be connected with each other. Culture and values are reinforced in an office environment. Distributed workforce companies understand how critical this is, and have always used this as a part of their model of community building. The majority of companies that have been forced to remote work environments have neglected this.
How will this impact the future of business? It remains to be seen, but based on what we know, we can make some assumptions. Our discussion continues next week.
At Acquirent, we use outsourced sales to help businesses expand their sales pipeline. There has always been a remote element to this, which is why we stress bringing people into our offices. Learn more and contact us today to find how our solutions can work for your business.