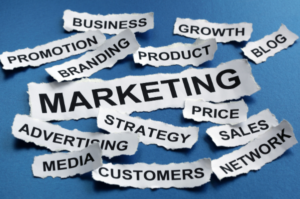 How to Outsource Marketing Services to Boost Your Sales Pipeline
In a time when many businesses are competing over the same target audience, successful marketing will set your brand apart from the competition. A strong marketing campaign is a unified strategy focusing on brand awareness, customer relations, and pipeline development. Although marketing is an absolutely essential element in any business, employees often struggle to develop successful marketing campaigns while juggling other responsibilities and tasks.
The solution? Outsourced marketing services are the perfect way to boost your sales pipeline without breaking the bank. Outsourced marketing services provide the support you need while still leaving plenty of room for customization and collaboration. Here's what you need to know about outsourcing your marketing services in 2022.
How Does Marketing Affect My Pipeline and Why Should I Outsource?
A sales pipeline is a visual representation of the stages a prospect moves through during the sales process. Marketing influences every stage of the pipeline from lead generation, to ongoing client engagement. An outsourced marketing team will help streamline your sales pipeline by reaching more members of your target audience and providing sales reps with high-quality leads.
There are several reasons why a business might choose to outsource all, or some, of their marketing needs:
Improving Leads – Since professional marketing services have the skills and resources to pinpoint your target audience, your sales team will receive higher quality leads.
Nurturing Prospects – Nurturing a prospect through the sales process is a time-consuming task. Outsourced marketing services help your sales team stay on track by sending educational and personalized follow-up materials to prospects.
Improving Brand Awareness – Outsourced marketing services have the bandwidth to support your company by increasing brand awareness on a large scale.
Who Should Outsource?
Business of all sizes benefit from outsourced marketing services, including:
Growing Businesses – Businesses experiencing a period of growth often adopt outsourced marketing services to supplement their in-house team. Outsourced reps can share insights and help your in-house team develop a long-term strategy.
Understaffed Businesses – If your marketing team is feeling overworked, it may be more cost-effective to outsource marketing support rather than hiring additional personnel to complete the job.
Disorganized Businesses – Businesses looking for a more cohesive and streamlined marketing strategy can benefit from the expertise of an outsourced team.
What Tasks Should You Outsource?
Outsourced marketing services are there to help you create engaging content and reach new audiences.
Content Creation
Professional marketing reps have the knowledge and skills to create unique and engaging content for your brand. Since content creation is a time-consuming task, outsourcing this work frees-up in-house employees to focus on other tasks. Plus, outsourced content creators can strategize with your business about content scheduling and how to integrate a multi-platform approach.
Marketing Analytics
If you need more support interpreting customer data, outsourced marketing services will gather and interpret client-related data to optimize future marketing materials and reach new audiences.
Social Campaigns
Social media campaigns are a powerful tool for marketing. Whether you choose to engage in email campaigns or incorporate other social services like Twitter and LinkedIn, managing a cohesive social campaign is a substantial task. Outsourcing social campaign management is a great way to invest in your business's growth and relieve in-house reps of extra responsibilities.
How to Outsource Marketing Services with Aquirent
Acquirent provides comprehensive outsourced marketing services to help your business thrive.
Budget
Once you've made the decision to outsource marketing services, start by creating a budget. Determine whether you're outsourcing all your marketing needs or supplementing your in-house team. No matter what you choose, Acquirent is here to provide marketing support that fits into your budget.
Communicate
Communication is essential for the success for any business relationship. Sharing clear expectations and goals is crucial when partnering with an outsourced marketing team. At Acquirent we prioritize communication above all else. Our active listening, dedication to transparency, and collaborative workplace all contribute to our excellent communication skills.
Let Go of Stress
We hope that with Acquirent on board, you'll trust us to take the wheel. With years of experience, a team of expert reps, and the latest in sales technology, we're confident we can transform your marketing strategies and help you attain your business goals.
Get Started
Ready to transform your marketing strategies once and for all? Contact the team at Acquirent today to get started.