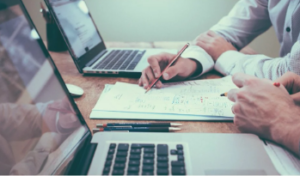 How to Use AI to Boost Sales
AI is a powerful tool for increasing productivity and gathering data about customers. Current business owners are incorporating AI capabilities into their sales strategies and using AI machine learning to nurture customer relationships and boost sales.  
With its intuitive functionality and adaptability, there's no doubt that AI is here to stay. Wondering how to incorporate AI into your sales funnel? Here are our tips on the best ways to use AI to boost sales.
Manage Customer Relationships
CRM (or Customer Relationship Management) software allows businesses to track and view their sales history and customer interactions. Ideally, CRM software provides you with a thorough overview of customer status across the entire sales cycle. CRM data will help you refine sales strategies, cater to unique audiences, and reach your sales goals. 
AI-powered CRM software collects customer data and reduces the need for manual data entry, saving you precious time and resources. Qualify leads, forecast sales, and personalize customer experiences with the help of AI-powered CRM programs.
Analyze Your Sales Funnel 
Your sales funnel is a roadmap of the sales cycle from start to finish. With advanced AI capabilities, it's easy to gather data from all stages of the sales cycle to illustrate trends and understand your strengths and weaknesses. Funnel analysis offers a holistic view of your sales cycle and is useful when rethinking sales tactics and marketing strategies. With the help of AI, you have the capability to collect data and form an accurate summary of the efficacy of your sales funnel. 
Personalize the Customer Experience 
Nowadays, customers are looking for personalized buying experiences that feel tailored to meet their individual needs. The downside is that creating a personalized sales strategy is time-consuming and unrealistic for businesses with a large client base. 
AI software utilizes data collected from CRM tools to formulate personalized customer outreach strategies based on demographics, interests, and needs. According to Accenture, "90% of consumers are more likely to shop with brands who recognize, remember, and provide relevant offers and recommendations." AI software takes past data about customer purchases and uses that information to make purchase recommendations and send targeted marketing content. 
Improve Customer Service
Customer service is an essential element of a successful business, but many companies don't have the budget or expertise to provide 24-hour support. Hiring customer service representatives is expensive, and it's difficult to field all inquiries with a small team. 
Chatbots are a fantastic use of AI capabilities to streamline your customers' experience. Chatbots offer customers answers to common questions 24/7 all year round. Since many customer inquiries have a simple answer, chatbots are programmed to anticipate frequently asked questions and provide useful links and further information or direct customers to the appropriate channel for assistance. 
Manage Communication
Your sales cadence refers to the variety of methods you use to contact customers. Sales cadences typically include outreach methods like: 
Email

Phone calls

Text messages

LinkedIn 

Social Media
AI helps manage and refine your sales cadence by tailoring ideal communication methods and managing communication frequency. A sales cadence takes into consideration the target audience and manages communication timing based on past data. AI software collects and processes relevant data from past sales so you can strategize about the best communication methods for each customer. Then, it's simple to use AI software to schedule email blasts, text campaigns, and social media outreach to align with a customer's ideal timeline. 
Working with an Outsourced Sales Development Company 
Although AI solutions are undoubtedly effective, they may not be financially feasible for all companies. Looking for the benefits of AI without the impact on your wallet? By partnering with an outsourced sales development company, you gain access to the latest technologies, sales insights, and unparalleled expertise. 
At Acquirent, we utilize the latest in sales enablement technology to expand your business and offer creative lead-generation solutions. Our AI-based lead generation technology streamlines lead generation tasks, like high-volume cold calling, so reps have the upper hand when it comes to connecting with potential clients. Our latest technology enables reps to place a large quantity of calls at once and alerts reps when a prospect picks up the phone.
Less time dialing = more time closing the deal
Interested in how AI solutions can help your business? Book a time or give us a call!