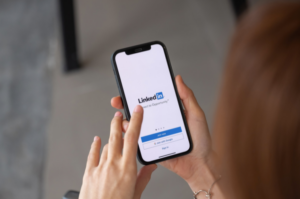 Implementing LinkedIn for Outsourced Sales Professionals
In an age where social media is central to running a successful business, a sustainable sales strategy requires a multi-pronged approach. Many sales and marketing campaigns utilize social platforms like Facebook, Instagram, Twitter, and LinkedIn to diversify their pool of prospects and foster brand awareness.
In terms of using social media for sales success, there's no better platform than LinkedIn. LinkedIn is #1 when it comes to making connections, finding qualified leads, and ultimately closing the deal. Both outsourced and in-house sales teams need to be well-versed in LinkedIn to be competitive in the current market. Here are our tips on implementing LinkedIn as a tool for outsourced lead generation.
Why Use LinkedIn for Outsourced Sales?
LinkedIn is a unique social platform because it provides professionals with easy access to connections within their industry, and the chance to chat with likeminded businesspeople. Although setting up a LinkedIn profile is fairly straightforward, using your professional LinkedIn as a prospecting tool does require some knowledge and expertise when it comes to using LinkedIn's sales features.
If you don't have the in-house personnel to successfully use LinkedIn to generate new business, consider outsourcing this task to a professional sales development rep. In an article exploring the benefits of outsourcing LinkedIn, Forbes recommends outsourcing as a great solution:
"If you don't have the time, expertise and experience to do your own LinkedIn profile management, create content that engages readers and use LinkedIn's social selling tools such as Sales Navigator Team and SmartLinks but want the benefits of all this, then you should consider outsourcing your LinkedIn marketing to an experienced firm."
When you outsource, you benefit from a sales rep's professional knowledge and gain qualified leads without expending your team's time and energy. When used correctly, LinkedIn is a valuable lead generation tool, and outsourcing helps you take advantage of the opportunities LinkedIn has to offer.
Benefits of LinkedIn for Outsourced Sales
Time Efficiency
Like many outsourced sales efforts, delegating your LinkedIn to a professional rep saves your in-house team lots of time. Instead of wrestling with LinkedIn's sales tools, wading through prospects, and mining mutual connections between companies, outsourcing these tasks allows your in-house team to focus on big-picture goals and day-to-day sales tasks. Outsourcing lead generation gives your team a head-start when it comes time to contacting prospects, and increases the number of successfully converted leads.
Cost Effective
It's also highly cost effective to outsource your LinkedIn management. For businesses using LinkedIn as a social platform, premium-level LinkedIn accounts are available for a small monthly fee. Premium membership gives you access to services like prospecting tools, and outsourcing takes full advantage of your investment by placing these sales tools into well-trained and capable hands.
Additionally, when you use outsourced lead generation strategies, you gain a greater percentage of high-quality leads. Since outsourced reps understand how to target prospective clients based on your ideal customer profile, you'll find that more of your prospects convert into sales at the end of the day.
Helps Manage Notifications and Messages
Running a social platform isn't just about pursuing new leads. Often, potential customers will reach out to you via LinkedIn with questions, concerns, or comments that need to be addressed. Managing all these communications alongside other sales duties sometimes feels like full-time job in itself. When you outsource your sales needs, you can delegate someone to stay on-top of communications so all your customers have a pleasant and informative experience working with your company.
Find and Keep Connections
Last but not least, outsourcing helps you find and keep meaningful professional connections. When you have a professional responsible for sifting through LinkedIn profiles, it's easier to identify and connect with people who share the same values. Maintaining professional connections on a local and global scale is exactly what makes LinkedIn such a unique platform.
Outsourcing LinkedIn Through Acquirent
Here at Acquirent we provide top-quality lead generation services, employee training programs, and marketing strategies, all suited to match your business's needs. Working closely together with your company to implement the best sales strategy for lead generation, Acquirent is committed to giving you the best results possible. Contact us today to get started with your first consultation.