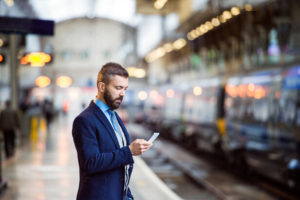 Is Sales Outsourcing Our Post-Pandemic Future?
The year 2020 was difficult for the world – sales outsourcing in a post-pandemic economy is now being seen as a viable option for businesses of all sizes. Businesses are still overcoming the roadblocks thrown by the COVID-19 pandemic and restarting their journeys to thrive. To combat the economic challenges posed by COVID-19 and mitigate the pandemic's effects, most businesses had to revise their budgets and reorganize their operational ecosystems.
Most organizations are still looking forward to building robust financial stability by outsourcing sales operations that'll boost revenue-generation initiatives. In this blog, we'll explain how COVID-19 has pushed B2B sales leaders to rethink the way they work. Afterward, we'll discover the relevance of B2B sales outsourcing in the post-pandemic world.
COVID-19 and B2B salesforce
These uncertain times are having a lasting effect on supply chains, sales initiatives, and market routes. Among the three of them, sales operations are heavily affected by the pandemic. However, uncertainty gives rise to ingenuity and innovation. Only unprecedented times push businesses to unlock the next level of growth opportunities. Businesses are pulling out all the stops to reinvent sales operations and become more resilient amid disruptions.
The COVID-19 crisis has altered how sales teams operate and interact with customers across the world. To address uncertainty, B2B sales leaders have to change their selling approach for stabilizing revenue streams, trailblazing new roads to growth, and remaining ahead of the pack.
Here's where outsourcing comes into play.
Outsourcing B2B sales functions helps
Leveraging leading-edge sales technologies
Sales teams should use the latest innovations to come back stronger, better, and smarter from the crisis. Most businesses are embracing new dynamics of virtual selling. However, if your business is unable to harness the latest sales enablement tools that'll help them sell virtually, then collaborating with a seasoned sales outsourcing partner will help.
Leading sales outsourcing agencies have maintained a stack of the latest sales technologies. This stack has enabled thousands of organizations to ensure business continuity and remain relevant in a constantly shifting marketplace.
Reinventing the B2B selling model
Buyer priorities are changing at a fast pace. This change will also have an impact on how B2B selling operates once the pandemic subsides. To thrive in the long run, businesses will have to reinvent the way their B2B sales teams work. The more innovative ways of selling will replace traditional selling methods and will alter the way enterprises communicate with their customers and prospects. However, reinventing the selling model will be an uphill battle for most B2B organizations.
That's where a sales outsourcing team comes in. A sales outsourcer will have a clear understanding of the shifts in buyer priorities. The expertise of a sales outsourcing partner will help your sales staff build a resilient and relevant B2B selling model that'll help your business sell more and serve customers better.
Getting the sales expertise that matters
In the post-pandemic world, B2B sellers have to focus on high-value opportunities that have the highest probabilities to yield returns. Besides, the sellers will have to focus on developing ROI–driven customer retention, upselling, and cross-selling strategies. However, developing such sales strategies requires expertise-backed experience. Most sales teams may not be able to pull off the development and deployment of sales strategies in these uncertain times. Here's where the expertise of an outsourced sales team comes in.
An outsourced sales agency has years of experience in helping businesses identify and target qualified leads, warm them up, and convert them successfully. Outsourcing sales functions in these critical times will help businesses revisit their channel mix more confidently and come up with strategies to target customers and prospects effectively.
Sales Outsourcing Post-Pandemic? Get the Acquirent edge
Businesses should start working on newer and bolder ways to sell their services and products in post-pandemic times. To prepare for lasting COVID-19 effects, sales leaders must rise to the challenge quickly by embracing a new generation of outsourcing models.
Having a sales outsourcing partner will be one of the most strategic steps a business can take toward reversing the economic consequences of the COVID-19 crisis. Partnering with a sales outsourcing agency will help businesses capture a huge market share and keep pace with always-evolving customer demands.
Your search for a trusted sales outsourcing partner ends with our team of sales specialists at Acquirent. We have the outsourcing expertise to help businesses respond to these challenging times through the lens of creativity instead of adversity. We have helped companies pivot fast toward creating incredible opportunities in these tough times.
We have a mix of people, processes, and technology to help your business identify and unlock untapped sales channels and uncover new opportunities. We have access to data-driven tools that help us take the guesswork out of your sales strategies so that you can target customers more effectively. Our sales enablement tools have empowered sales leadership and account teams to win sales deals and power through these challenging times.
Get connected with one of our sales specialists and discover how we are your sales outsourcing partner of choice during the COVID-19 pandemic and beyond.