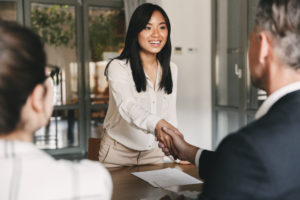 Important things you should do during an interview
In this week's installment video Shannon Kita, Vice President of Sales, at Acquirent discusses the main attributes she looks for in a candidate during their interview. Interviewing can be a stressful process that many find to be an anxiety driven experience. While there are few out there that would find interviewing an enjoyable experience it is the best way to show your personal value, while at the same time learning if this company would be a good fit for you.
In her video Shannon touches on what she finds to be the most important thing you can do during an interview. While she acknowledges the importance of doing your research on a company before going into an interview this can be a relatively quick process. The interview is not for you to show what you already know about your prospective employer. It is for you to show the prospective employer what you bring to the table, what makes you different and unique from all the other candidates.
Employers who hire employees with diverse backgrounds get positive results. When a group of individuals with different life experiences gets together, they can come up with innovative ideas and process that would have been unlikely to come from a group all with similar backgrounds.
The question then is how do you set yourself apart from the crowd in an interview? How do you show that what you would bring to the table would be different from the opinions already being expressed in that work place? Below are a couple quick ideas to ponder before you go to your next interview.
What unique skills can you bring to the table
This can start on your resume. Highlight what different skill sets you may have that would be different from others interviewing for the same position. For example, if you are interviewing for a sales role maybe have a brief section on your resume that goes over your experience in a different field. Then during the interview discuss how that different role molded you into the person you are today and taught you valuable skills that are transferable into a sales role. Many companies want employees with backgrounds that show the ability to embrace change, and this is one way you can show how change receptive you are as well.
Briefly mention extracurricular activities
Are you part of a community groups? Do you spend your weekends volunteering? These sorts of things can show an employer what you are passionate about and many times can also help facilitate a connection between you and the individual interviewing you. How you spend you time outside of work often dictates how you are at work. This information can tell an employer a lot more about what you can bring to the table than only discussing your professional experience
What challenges have you faced that show personal growth
Everyone has had challenges in life. Use these challenges in your next interview to relay how you have grown as a person. Talk about obstacles you have had to overcome as you grow in your career. An example would be to discuss a time that you had a particularly difficult sales quota to hit. Let the interviewer know not only how you overcame that obstacle, but how you went on the learn from that struggle and how it has affected your process going forward.
Be yourself
In almost any interview self help guide they say to be yourself. Yet it seems to be the most difficult part. During an interview many are nervous and feel the need to impress the interviewer. It is important to remember that when you are not completely upfront with who you are and what you bring to the table then the interview process will not accomplish what it should, and you could end up in place you should not be. An interview is a time to show what really matters to you, and who you are. Answer questions with complete honesty. This way the interviewer will get an accurate idea of who you are and will be able to make an informed decision on how you would benefit their team.
During your next interview do not just go with the flow, display how much you know about the potential employer, and talk about how long you were at your previous position. Take the time to show the interviewer what truly makes you a unique individual and how you would contribute to a diverse working environment.