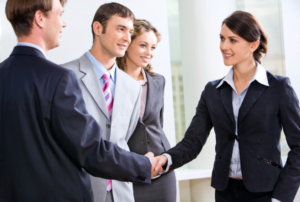 Is a Sales Job Hard? 6 Questions You May Be Asking in Your Job Hunt
Is a sales job hard? There's no doubt that job hunting is a tiring process. From preparing for interviews, to writing cover letters, to updating your CV, you're probably devoting a significant amount of time and resources towards finding your next position. For professionals hoping to enter the sales industry, you might be asking yourself—is sales hard? How can I prepare for this new role?
Each individual has their own set of strengths. Start by asking yourself what you're looking for in your new position, and then prepare some pertinent questions to ask your potential employer. This way, you'll enter the decision-making process with a solid sense of your priorities and values.
Questions You May Be Asking Yourself
Let's start with the most important question to ask in a successful job hunt: what are you looking for in your future job? Asking yourself a few deeper questions will help you narrow down the kind of opportunities that might be a good fit.
#1 What Do I Enjoy About My Current Job?
Whether it's the team-oriented work ethic, the laid-back atmosphere, or the opportunities for growth, there are bound to be elements of your current job that you'd like to prioritize in a new position. Take time to examine what's working well in your current role, so it's easier to identify those elements during the job search.
#2 What Kind of Company Culture Do I Prefer?
No two businesses are alike, but many share commonalities in their company culture. Maybe you prefer a competitive atmosphere as motivation to achieve growth, or maybe you prefer a team-oriented work environment. There's no right or wrong answer, but identifying the type of company culture that you value will help you fit in with your colleagues and stay in-sync with your managers.
#3 How Do You Handle Failure?
Understanding your response to failure, particularly in the context of sales, is essential for success. Sales can be a tough field! Every experienced rep will tell you that you need to get used to rejection, awkward phone calls, and failed deals. Consider how you handle rejection, and imagine yourself dealing with failed sales calls on a daily basis. How do you feel about working in a tough field? Although these questions might be uncomfortable, in the long-run you'll be happy you took the time to consider the more difficult elements of sales.
Questions to Ask in an Interview
Once you've sorted out your own priorities you can focus on each employer and what they have to offer. Interview questions are a key part of gaining insight into company culture, training protocols, and measures of success.
#4 How Do You Train Your Reps?
Not everyone learns the same way. Some people are visual-learners, others learn by doing, and others learn by listening. If you're interviewing with a sales company, it's helpful to know what the onboarding process looks like and how the company plans to train you and your peers. Ask about potential opportunities to work with more experienced salespeople, if the company offers ongoing educational opportunities, and if you'll be able to receive direct feedback from your supervisor. This will help you determine whether the company has a vibrant sales training program and values educating employees.
#5 What Tools Do You Use?
Get a sense of what your day-to-day tasks will look like on a practical level. There are many sales enablement technologies available, and each company will have a unique way of configuring their database. Ensure that you have the tools you need to track sales, log calls, and collaborate with team members.
#6 How Do You Track Success?
Every company will have a slightly different metric with which they measure success. For some, success is simply hitting monthly sales goals or reaching cold-call quotas, but other companies may be more interested in your professional growth and ability to retain clients. Understanding how a company measures success will help you focus your future efforts so you can excel in your new position.
Understanding the Sales Landscape
Many companies work with an outsourced sales development company to supplement their sales force and improve employee training. Acquirent offers outsourced sales development services geared towards helping businesses of all sizes reach their full potential. With our professional sales training programs, Acquirent helps businesses foster teamwork, promote education and prioritize professional growth.