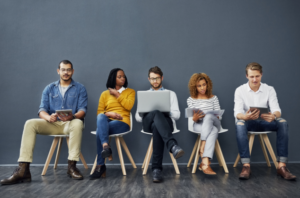 How to Hire Sales Talent in a Pandemic
The beginning of the pandemic in March 2020 might feel like a long time ago, but COVID-19 is still affecting the professional world today, and the question of how to hire sales talent in a pandemic remains a top priority. With new variants disrupting operations and no clear end in sight, many businesses have adapted to operating under a pandemic-conscious reality.
Yet although holding virtual meetings and conducting work via email may be intuitive enough with current staff members, it's challenging to recruit new talent under these remote circumstances. Hiring sales talent in a pandemic requires excellent communication skills, fluency with virtual platforms, and a willingness to be flexible with workplace expectations.
Here are our top tips on how to hire sales talent in a pandemic.
Keep it Virtual
First things first—embrace virtual technologies. Instead of viewing video chats or recruitment services as impersonal, understand that these methods for hiring new talent are just as effective as in-person interviews, and may reach a wider pool of applicants. Virtual hiring is certainly here to stay, so it's important to familiarize yourself with the latest hiring programs.
Become Video-Chat Fluent­ – Get to know the features of your video chat programs. Find a location where you feel comfortable conducting calls, and where you receive adequate internet signal. Make sure you test your microphone and camera before initiating an interview call, and don't forget to keep your sense of humor! Glitches are bound to arise with video calls, but remember that everyone is dealing with the same set of challenges.
Use Online Recruitment Platforms – Most modern-day businesses are already using online recruiting and job-posting platforms. Make sure you're advertising open positions on highly-trafficked job sites and connecting with candidates via social media platforms like LinkedIn.
Facilitate Online Hiring Events – Although you may not be able to host a recruitment even in person, consider facilitating a remote event held via an online platform. These events are a great way for candidates to connect with potential coworkers and supervisors, ask questions, and get to know your company's values before applying.
Hire Sales Talent Internally
Not every company has a large enough employee pool to hire internally, but this method is a great way to save time, money, and cultivate long-lasting talent. Internal hires take fewer resources to onboard and train, and are more likely to invest long-term in the company. Hiring internally is a great opportunity to let current employees shine, and utilize the talent you already have to the fullest extent.
Embrace Flexibility
The pre-pandemic professional landscape was firmly set in a 9-5, 5 days a week rhythm. But ever since work expectations shifted in 2020, more and more businesses are embracing either an entirely remote model or a hybrid work model. This means that employees can choose which days they go into the office and which days they work from home. This flexibility cuts down on commuting times, and allows employees to spend more time focusing on their family life.
Additionally, don't let geographic boundaries dictate your hiring options. The beauty of remote work is that there's plenty of wiggle-room when it comes to employee location. Use this to your advantage, and source the best sales talent for the job, regardless of location.
Since employees have acclimated to increased flexibility, new hires will expect a certain degree of leniency when it comes to in-person work expectations. Emphasize flexibility, remote work options, employee perks, and health and safety policies in job postings. Target your job descriptions towards the type of employee you'd like to have, and be open to recruiting unique talent. Remember that diversifying the skills in your sales force will lead to a more dynamic, effective team.
Hire Sales Talent with Acquirent's Outsourced Services
At Acquirent, our sales development experts are dedicated to helping your business build community, develop a successful sales team, and succeed in future growth. If you're looking for new sales recruits, Acquirent's recruitment and training services will help you find unique, qualified candidates, hand-selected to mesh with your company's culture.
At the end of the day, hiring sales talent is just one part of building a successful business. From sales enablement technology, to marketing strategies, to outsourced lead generation services, Acquirent is here to help you succeed every step of the way.