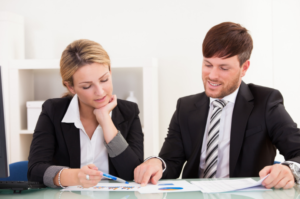 What is an Outsourced Sales Representative?
For small and large businesses alike, hiring an outsourced sales representative is a great way to minimize your expenses, expand your customer base, and increase brand visibility. Before you decide to hire an outsourced sales company, you might find yourself wondering: what exactly does an outsourced sales rep do? Like in-house reps, outsourced reps handle the health of your sales department.
Wondering if outsourcing is right for you? Here are some of the top benefits outsourced sales reps will bring to your business.
A High-Level of Expertise
Most sales representatives working for an outsourced firm are experts in their field. During their professional journey they've chosen to become sales specialists, and understand all the ins and outs of operating a successful sales team.
Given their commitment to providing high quality leads and closing deals, outsourced sales reps are quick to deliver results. Instead of going through the hassle and stress of training an in-house team, outsourced reps are ready to hit the ground running. For businesses looking to speed up their expansion process, hiring outsourced talent is the way to go.
Comfort with a Variety of Sales Techniques
If you're familiar with the world of sales, then you know that different clients require different sales strategies. Some clients respond well to email campaigns, while others prefer face-to-face meetings.
Expanding your brand requires you to have a battery of techniques in your back pocket. Because outsourced sales reps spend so much time mastering the art of sales, they offer fluency in a wide array of sales techniques all in one package.
Cold Calling – We would be lying if we said that most reps enjoy cold calls. It's a fact that cold calling is difficult and demoralizing. With proper preparation and plenty of practice however, cold calling becomes just another tool to gain new business.
Since outsourced sales reps often focus on generating new leads for their clients, they are cold call connoisseurs. You can trust that all your lead generation needs will be met with an outsourced rep on the phone. From dynamic scripts, to solution-based selling techniques, your outsourced reps will have the skills necessary to turn cold calls into closed deals.
Digital Campaigns – Email and social media campaigns are another effective way to market your product to a large audience. Outsourced sales reps are experienced with digital marketing, and will be able to offer you the latest analytics, email management, and social media advice. Although digital marketing initiatives are a fantastic way to promote your product to a large customer base, it's overwhelming to manage everything in-house. Outsourced teams help you strategize and convey your company's unique attributes to an online audience.
Access to Professional Resources
In addition to their comfort with a variety of sales techniques, outsourced sales reps provide a wealth of professional connections and resources. Finding your way into the professional world might be intimidating and feel impossible. Part of the benefit of working with an outsourced rep is access to established business networks.
Sales specialists need to be plugged into the professional world. They use their connections to find new leads and spread brand awareness. These connections may blossom into new clients, or lead to new investors. Having access to a group of established sales professionals and entrepreneurs allows you to discover exciting opportunities.
An Outsourced Sales Representative Can Save You Time (and Money)
If you're thinking of hiring an outsourced sales representative, you may still have a few questions about your investment.
Working with an outsourced rep will save your time and money. Since you don't need to worry about salaries, office space, training, or other expenses, outsourced reps are more affordable than hiring an in-house team.
Plus, outsourced reps understand the most efficient way to allocate resources towards generating new sales. This way, you won't waste time trying to strategize about how to pursue a new lead.
An Outsourced Sales Representative is Part of Your Team
When you work with a highly-regarded sales development company, outsourced reps become part of your extended team. At Acquirent, our reps provide each and every client with innovative, effective, and personalized sales strategies guaranteed to show results. Our reps care about working with you to find the best solutions to all your sales needs.
Acquirent's sales reps provide clients with the resources necessary to pursue their company's highest potential. Plus, with scalable options, you won't need to worry about fitting Acquirent into your budget.
From lead generation to moving prospects through the sales pipeline, Acquirent's reps have a head-to-toe approach to sales and are dedicated to working with your sales cycle every step of the way.