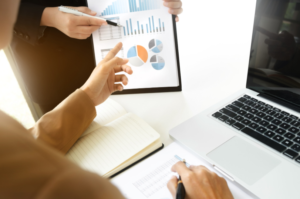 Why Do Fortune 500 Companies Outsource Sales?
Fortune 500 companies are the largest and most successful enterprises in America – with highly successful marketing campaigns, world-wide renown, and quality products and services, you might wonder why these businesses decide to outsource their sales teams.
It's a myth that sales outsourcing is only for small businesses trying to grow their customer base. In fact, there are many reasons why some of the largest companies in the world decide to allocate sales tasks to a team of professionals instead of handling sales internally. Outsourced sales teams offer a high level of expertise, detailed market knowledge, and sales enablement technologies that may not be reasonable for an in-house team to incorporate.
The Fortune 500 Outsource Sales to Optimize the Sales Pipeline
Big business owners don't need to spend time and energy dealing with nitty gritty details and fine-tuning sales pipelines. Hiring an outsourced sales service optimizes the flow of customers through your pipeline by allocating a team of professionals to pipeline management.
A sales pipeline is a metaphor for the series of steps a prospect needs to complete in order to become a client. From lead generation, to lead nurturing, to closing a deal, pipelines help you visualize where prospects are within the sales process. Outsourced sales teams know pipelines inside and out. Part of the advantage of outsourcing is allowing professional SDRs to streamline your pipeline so prospects move even more smoothly through the process.
Navigate New Markets
Fortune 500 owners know that the key to success is expansion. But with such a large market and ever-shifting demands, expansion can overwhelm an in-house team. This is another instance when outsourcing your sales team makes all the difference. Professional development reps are no strangers to the intricacies of market expansion.
An outsourced sales team will help you:
Adapt marketing initiatives to appeal to a new market.
Reach a larger audience through social media and email campaigns.
Prioritize pursuing qualified leads.
Facilitate the introduction of new products to your client base.
Handle geographical expansion by introducing new regions.
Save Money in the Long Run
One common misconception about outsourced sales services is that they are inherently more expensive than maintaining an in-house team. In reality, outsourcing your sales team is much more cost-effective than hiring, training, and paying the members of an in-house team.
Inside sales teams require a large portion of your financial resources. In addition to salaries, you can expect to allocate funds for paid vacation, bonuses, maternity leave, health insurance, training technology, employee tools, and other costs. By eliminating the need for an in-house sales team, large companies are able to designate funds to other projects. Plus, since outsourced teams have highly experienced sales reps, you're more likely to close deals and find new prospects with the help of their expertise.
Update Sales Enablement Technology
Technology plays a big role in today's sales world. Unfortunately, incorporating the latest technologies into your business might be prohibitively expensive and require a high level of expertise. Fortune 500 companies may find it unrealistic to offer employees the latest tech tools on such a large scale.
Luckily, outsourced sales teams have access to many of the latest and greatest technological advances. Since outsourced sales development companies specialize in using sales technology, you can be sure they know all the latest tips and tricks of the trade.
Prioritize Omnichannel Marketing
Omnichannel marketing is a strategy that provides customers with a consistent brand experience across multiple platforms. An article on TTEC lauds the benefits of outsourced sales for omnichannel marketing development and asserts that: "organizations that tap into the expertise of sales reps with proven performance in digital channels such as web, chat, and social will strengthen their omnichannel results."
Large companies use omnichannel marketing to ensure that customers receive the same information and have the same online experience no matter how they access a product. Picture omnichannel marketing as the connective tissue that links together social media platforms, websites, and email marketing campaigns. Outsourced sales reps are highly experienced with the intricacies of omnichannel marketing, and use these tools to leverage more sales.
How Acquirent Helps the Fortune 500 Outsource Sales
Looking for an outsourced sales team to help your business grow? Acquirent specializes in providing management strategies, sales training, and recruitment support to businesses of all sizes.
From Fortune 500 companies to small startups, Acquirent is dedicated to helping companies reach their full potential. Acquirent's solution-oriented development techniques are tailor-made to address each company's unique needs. Whether you're part of a large corporation or just starting your professional journey, Acquirent's team has your back.