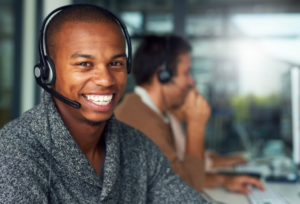 What is the Cold Call Sales Success Rate?
Cold calling is one of the most tried and true sales prospecting techniques – a cold call success rate, however, can be difficult to estimate. For small businesses and Fortune 500 companies alike, cold calling produces qualified leads and creates new opportunities for growth. Whether you love cold calling or hate it, there's no doubt that it's here to stay. But what exactly is the cold calling success rate anyway?
Cold calling requires time, dedication, and practice to be a viable lead generation technique. Here's what you can expect when launching a cold calling campaign, and some tips to make your calls more successful.
Examine The Key Statistics
Let's start with the basics: cold calling is a sales prospecting technique that involves contacting potential clients via phone without any previous introduction. Essentially, you're starting a conversation with a stranger to establish an ongoing professional connection. Easy, right?
According to an article featured on Forbes, "cold calling is successful 2 percent of the time." This means that you need to complete a high volume of calls in order to achieve a meaningful number of leads. Cold calling hinges on frequency and perseverance.
The good news is that according to a survey done by Zippia, "57% of B2B C-level executives prefer to be contacted by phone" and "82% of buyers say they've accepted sales meetings after a connection that began with a cold call."
The data shows that cold calls do yield positive results, the key is sticking to a consistent call routine and following up multiple times after initial contact. On average, it takes 5-6 follow up calls to secure a meeting, so don't be discouraged if your first few attempts go unanswered.
Don't Hesitate to Call
Cold call success is not gained by those who wait. In a competitive market, it's essential to jump on opportunities as soon as they crop up. Zippia found that "Over 80% of buyers take meetings with salespeople that reach out to them first." Sales reps who promptly reach out to potential leads have an edge over the competition by demonstrating enthusiasm to a potential client.
Practice Makes Perfect
When it comes to connecting over the phone, tone is everything. The same Zippia survey cites that "93% of the success of your cold call comes down to the tone of your voice." That staggering statistic means that your attitude has the power to transform a sales call.
Cold calling may not come naturally to every sales rep. Practice your pitch with coworkers or friends, and ask for constructive feedback from your supervisor. To help you stay on track during the call, use a list of talking points as a roadmap for the conversation.
Warm Up Your Cold Calls
Increase your success rate by heating up your cold calls. Instead of contacting a prospect out of the blue, establish some low-key contact before you call.
Email is a great way to warm up cold calls and let prospects know you're interested in reaching out to them for a future conversation. Briefly introduce yourself and your company so a prospect has context when you call.
Social media is another fantastic tool for warming up a prospect before a cold call. Use platforms like Facebook, LinkedIn, Twitter, and Instagram to connect with potential clients before you pick up the phone.
Get a Better Cold Call Success Rate with Acquirent
Many companies struggle to gain new leads through cold calling because they don't have enough in-house reps to meet call goals. Cold calling is a specialized skill, and hiring, training, and paying more sales reps may not be a financially feasible solution.
To mitigate the costs of cold calling, consider working with an outsourced cold calling team. Outsourced cold callers can either replace or supplement your in-house team and have the skills and experience help you meet your lead generation goals. Plus, outsourced cold callers are specialists, and have the time and space to dedicate their undivided attention towards finding new leads.
Looking for an outsourced lead generation company?
Acquirent specializes in helping companies of all sizes generate qualified leads. Our skilled sales reps are trained in the latest sales enablement technology, and are dedicated to achieving your lead generation goals. Plus, if you need more sales support, Acquirent offers training, recruiting, and marketing services to help you streamline your sales strategies. Contact us today to get started!