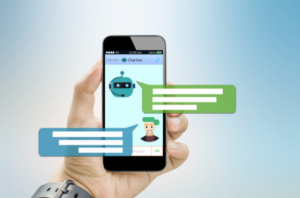 How Chatbot is Changing Sales and Marketing
Technology has drastically changed the sales and marketing landscape in recent years, and using chatbot for sales and marketing is no exception. Built into most websites as a communication tool, chatbots allow customers to interact with a knowledgeable interface without the hassle of calling customer service or sending an email.
An invaluable element to online consumer experiences, chatbots are integral to meeting customer expectations and helping prospects navigate you company's website.
What are Chatbots?
In a nutshell, chatbots are AI programs built to answer questions and help guide consumers through the buying process. They function like an instant messenger service, where customers "live chat" with a virtual assistant for immediate support.
Having a chatbot doesn't have to come at the cost of providing customers with a personal experience. Chatbots are programmed to engage in friendly, approachable, and intelligible interactions with customers across a wide variety of scenarios. Since chatbots are constantly improved and updated, your chatbot service can learn how to better support and understand your ideal customer base over time.
What are the Benefits of a Chatbot for Sales and Marketing?
There's a reason why chatbots are so popular in current sales and marketing initiatives. Not only do they help field common questions, they provide a wide variety of services your company can utilize to gain new customers.
Provide 24/7 Access to Customer Support
Since chatbots never need to take a break or go home at the end of the work day, they provide valuable 24/7 support for customers who need assistance. Chatbots are available at any hour of night or day, and respond to inquiries quickly. This responsiveness aids customers in addressing problems in real time, without the need to wait for the next available representative.
With such accessible support, customers are guaranteed to have a more positive experience working with your company.
Target Segments of Your Customer Base
Most companies have multiple buyer personas that they cater to within their total customer base. This means that for marketing purposes customers are generally divided into smaller categories (e.g. college students, young professionals, stay-at-home parents etc.) These categories help companies target advertising by appealing to the unique needs and desires of each buyer persona.
Chatbots help optimize this sales strategy by tailoring chat content to match different buyer personas. Chatbots use data about prospects to customize communications, so prospects receive the most applicable information for their lifestyle and needs.
Increase Brand Engagement
The easier it is to engage with a service, the more likely customers will be to reach out for assistance. Chatbots are approachable, available, and intuitive to use, and this makes customers feel comfortable reaching out with questions and concerns.
Nowadays speaking to a representative on the phone feels like a drastic measure, whereas asking a chatbot a question is a much more approachable option. Plus, as previously mentioned, chatbots offer immediate responses, which increases their overall efficacy dealing with common questions.
Set Up Sales People for Success
With the advantage of chatbot services, customers gain swift answers and engage more readily with your company. Subsequently, customer interactions with chatbots set up your sales people for success by helping nurture leads.
Since customers use chatbot services to address questions up-front, they are more likely to have a positive experience working with your company. This leaves salespeople free to help customers with more intricate questions, knowing that they have already engaged with company resources and are interested in the product. This alleviates your sales team from answering the same questions over and over again, and offers them the opportunity to speak with more qualified leads.
Track Data
Because chatbots are virtual assistants, it's easy to gather data on customer interactions. Using chatbot data tracking, you can gather key statistics such as the frequency of customer interactions, the types of questions being asked, and the number of interactions that successfully resolve a question. These data points help your marketing and customer service departments streamline chatbot interactions and improve overall customer experiences.
The Benefits of Upgrading – Chatbot for Sales and Beyond!
Adopting a chatbot into your sales strategy is just one element to consider when streamlining your business to enhance customer experience. In addition to chatbots, many companies are partnering with outsourced sales and marketing teams to gain a more specialized approach to sales.
At Acquirent, we provide our clients with sales and marketing support including lead generation, marketing management, and employee training. Combining highly trained professionals with the latest in sales enablement technology, Acquirent's goal is to help your company evolve and meet the future with confidence and success.