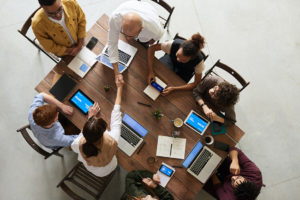 Recruiting Sales Professionals in the New Normal
Social distancing due to the coronavirus pandemic has taken a toll on numerous industries – and that includes sales. As such, companies across the globe have begun to experiment with various ways of recruiting professionals in what can only be described as the new normal. Below are some tips and tricks that can help you grow your business despite restrictions and guidelines. 
The Transition to Remote Work
Social distancing may make things difficult and tedious, but it isn't stopping millions upon millions of Americans from doing their jobs. Companies across every industry are relying on remote workers for everything from customer service to tech support and even sales. Working remotely is beneficial for sales representatives as it affords them the ability to do their jobs from home. This means no long commute and fewer missed workdays due to family obligations. What's more, because people can work remotely from anywhere, sales-oriented companies are no longer finding themselves limited to locals; instead, they've gained access to a massive talent pool. 
Ways Recruiting Has Changed
Prior to the explosion of the internet (and the rise of the pandemic), companies relied on traditional means to recruit their sales reps and agents. They would put ads in the newspaper or online asking for applications and resumes and follow this up with one or more in-person interviews. The time, resources, and money involved in recruitment were substantial. The rise of the internet has certainly changed things; it allows candidates to email their resumes, and it gives recruiters the opportunity to interview those candidates via a video call. In other words, sales-oriented companies have gained access to a massive talent pool, and they've also gained access to technology that makes recruiting faster, simpler, and less expensive. 
Uncertainty and the Hiring Process
The pandemic has brought an air of uncertainty to many companies across numerous industries, and this makes it difficult for some businesses to justify hiring full-time sales talent. As a result, they turn to outsourcing, which not only saves a substantial amount of time and money, but also gives them access to a huge pool of candidates who have already been screened and vetted. Outsourcing can fulfill almost any need, including short-term needs and long-term (permanent) placement. 
How to Outsource in the New Normal
The best way to outsource recruiting and placement is to find a partner company that focuses solely on sales and utilizes a time-tested process to vet and place sales talent. Following a series of verifications – including background checks and calls to previous employers – your partner company should also utilize assessments to ensure that each candidate has the knowledge they need to succeed. 
The new normal is not what many companies may have planned, and it has forced companies around the world to find new and innovative ways to accomplish various tasks –  including recruitment and onboarding. Fortunately, outsourcing these tasks saves time, saves money, and provides a wealth of other benefits that can do much more than simply keep companies afloat. With the right partner, outsourcing can even help businesses grow – even during a pandemic.