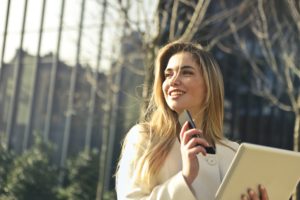 Women in Leadership – 3 Key Lessons from Ulta CEO, Mary Dillon
Women in Leadership
Last year, Acquirent had the privilege of welcoming Mary Dillon, CEO of Ulta Beauty and Evanston native, to one of our morning meetings. She also held a meeting with the women of Acquirent, where she shared insights into her career path and the lessons that she learned along the way.
Mary Dillon Interview with Joe from Geoff Winthrop on Vimeo.
Empower with Voice
Throughout her career, Mary Dillon spent time honing her leadership style and learning what behaviors were effective. One of the most important pieces of advice she provided us was to put our consumer and guest first, and then to put the well-being of employees next. People want to feel heard, customers and company employees alike. If consumers and employees feel like they have a voice within a company or organization, they will feel loyalty to the brand and its leaders.
Share Responsibility
Being an effective leader involves delegating roles and tasks. Understanding your role as a leader and surrounding yourself with talented employees is key to making sure that tasks are completed properly. There is no feasible way for one person to handle big picture decisions within a company in addition to managing everyday tasks. While it is important that leaders understand all roles within a company, they should not be expected to perform all of the tasks. Hiring talented people who are trustworthy and diligent workers makes delegating tasks easier.
Think Positively
Another key to success in any type of role is maintaining a positive attitude. Although there are bad things that happen throughout life and in work, being successful means that you don't allow the negativity to permeate into different areas of your life. Surrounding yourself with people and employees who exemplify a positive attitude and don't allow the negative things to bring them down is vital. A positive mindset is what allows you to get through hardships and still find success.