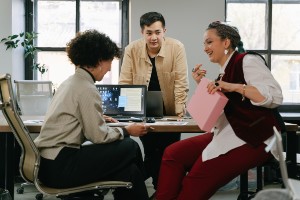 How Acquirent Handles Industry Specific Sales Training 
One of the most important elements of a successful sales team is ongoing sales training. Since industry-wide trends change, sales techniques improve, and products are updated from year to year, it's no wonder that ongoing training is essential to keep up with any business sector.
At Acquirent, we find that the best way to handle industry specific training is to foster an environment of continued learning, mentorship, and collaboration. Looking for training solutions in your industry? Learn more about our approach to industry specific sales and effective ongoing training strategies.
What Does "Industry Specific" Mean?
First things first, let's talk about what sales managers mean when they say reps should be trained in industry specific sales techniques. For one thing, different industries require unique skills, product knowledge, and sales tactics. A rep trained to sell medical equipment has an entirely different knowledge base compared to a rep selling accounting software. Industry specific training builds on basic sales skills and focuses a rep's expertise on relevant products and strategies.
Some industries that utilize unique sales training include:
Technology
Medicine and Pharmacology
Manufacturing and Logistics
Retail and Customer Service
Construction
Why Use Industry Specific Training?
Industry specific training prepares sales reps to effectively communicate with clients searching for solutions in a particular field. For example, reps working in logistics might be exclusively focused on selling their product to other businesses, rather than individual buyers. Their training needs to include details on warehouse-management technology as well as strategies in B2B sales. Training might include elements like cold calling techniques, closing strategies, and follow-up tactics. At the end of the day, industry specific training prepares reps to handle in-depth sales questions, and gives them a strong foundation for selling within a certain sector.
How Does Acquirent Support Industry-Specific Training?
In a nutshell, Acquirent's philosophy is that sales training is an ongoing process. Reps should approach training as an opportunity for continued growth and learning, and not as a check-list of skills.
We facilitate our industry-specific training through a variety of educational opportunities including:
Classes and webinars on new sales techniques and strategies.
Call monitoring to provide individual feedback.
Call recording for play-by-play analysis.
Company-wide meetings addressing new industry trends.
Educational resources like videos, blog posts, and articles about related topics.
Mentorship for sales reps.
What We Prioritize
Keeping Up with the Industry
No matter what industry you're focusing on, trends shift and customer demands change. For any competitive business it's essential to keep a finger on the pulse of ever-shifting developments and train reps to handle product updates, new customer concerns, and evolving selling strategies. With our large pool of sales resources, we keep training strategies up-to-date and aligned with industry-wide trends.
Sales Technology
Another key component of industry specific sales training is using the latest technology. Our team uses the latest in sales enablement technology to monitor customer interactions, generate qualified leads, and analyze sales cycles. This helps us tailor selling strategies based on industry-specific statistics.
Representing Brand Identity
Within any given industry each company has their own unique voice. We work closely with our clients to understand their mission, goals, values, and target audience, so our reps can fit seamlessly into any sales environment. We know how important it is for companies to distinguish themselves from the competition, and we strive to highlight the distinct benefits each business has to offer.
Mentorship
At Acquirent, we believe in fostering a collaborative environment. That's why we've created our mentorship program, which partners less experienced sales reps with highly experienced peers in order to encourage ongoing learning. We've found that this model not only allows less experienced reps to gain new skills, but it contributes to lasting results and total engagement in the sales process.
Let Us Transform the Way You Do Sales
Whether you're hoping for a sales-team overhaul or supplemental support, Acquirent has your back. In addition to sales training we offer, recruitment support, marketing strategies, and fully outsourced sales services. We are passionate about helping companies of all sizes reach their full potential, and are excited to work with you! Interested in getting started? Embrace your future success and contact us today.