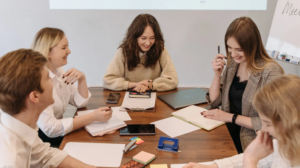 Building B2B Customer Loyalty in Sales 
For B2C and B2B businesses alike, fostering strong customer loyalty is an essential part of a competitive sales team. Long-term customer relationships are the backbone of any company, and provide stability for both parties involved. 
But customer loyalty doesn't happen at the snap of your fingers. Building loyalty requires delivering consistent, high-quality products, as well as demonstrating your dedication to customer satisfaction. Many loyalty programs tend to be targeted towards individual buyers rather than businesses, so here are our tips on how to build B2B customer loyalty in sales.
What Makes B2B Customer Loyalty Unique
B2B sales is more intimate and personal than B2C sales. For one thing, there's a smaller pool of clients to pursue, so it's more manageable to research clients before making contact. This gives companies the opportunity to really get to know their clients and establish a strong sense of trust. 
The smaller size of the B2B sales world also makes it easier to customize loyalty programs to suit each customer's needs. By offering a personalized loyalty program, you demonstrate your commitment to each customer and your attentiveness when it comes to providing real value.
How to Encourage Customer Loyalty 
Before you start developing a specific loyalty program, encourage customer loyalty through your business's messaging and content. The key is to communicate, engage with clients, and ask for feedback when applicable.
Communicate – Start by keeping the channels of communication open between you and your clients. Make sure it's seamless to contact your company through multiple channels such as social media and email. Check in with customers frequently to ensure they are still satisfied with your product. 
Engage – Engage customers by continuing to post useful, educational, and valuable content. The idea is that every newsletter, webinar, or social media post has something new to offer customers so they stay engaged with your brand.  
Inquire – Ask your customers to provide feedback about their experience working with your company. You can incentivize taking a short survey by offering a discount to participants.
Research – Pay attention to your customer's buying habits and preferences. This will help you hone your content to appeal to different client subsets. 
B2B Loyalty Program Ideas
Loyalty programs come in many shapes and sizes. It all depends on the structure of your business and your customer's priorities. In general, loyalty programs are there to ensure existing customers feel valued by the company, and to encourage newer customers to commit to ongoing contact and services. 
Some B2B loyalty program structures include: 
Tiered Programs 
Tiered loyalty programs offer customers several different membership levels depending on their commitment to the company. For example, the first tier may offer a 10% discount, while the second tier offers that 10% discount plus free shipping. Membership in these programs might be contingent on paying monthly or annual dues (think Amazon Prime), or might automatically kick-in after investing a certain amount of money into your products.  
Members Only Events 
Exclusive content, educational resources, retreats, or other events held for existing customers are a great way to connect with customers and establish lasting connections. Events are also a great way to connect with potential new clients while showing existing clients that you value their business. 
Referral Programs
Referral programs encourage existing clients to pass along your business to friends, colleagues, and other connections who might be interested in what you have to offer. Referrals are a fantastic way to gain new business, since prospects are more likely to engage with your company based on the recommendation of someone they trust. Offer clients a discount, bonus, or promotional deal when they successfully refer a new client to your company. 
Developing B2B Sales with Acquirent 
Instead of tackling sales development by yourself, partner with an outsourced sales development company to streamline your sales strategies. At Acquirent we offer marketing management, sales prospecting, employee training, and recruitment services to businesses of all sizes. Acquirent's team of sales development reps will work closely with your company to develop a sustainable and effective sales strategy. Acquirent is committed to working with every budget, which is why we offer scalable contracts to align with your exact needs. 
Interested in getting started? Contact us today for your primary consultation and begin your journey towards greater sales success. 
Build an Effective B2B Sales Strategy
Acquirent's team of sales development reps will work closely with your company to develop a sustainable and effective sales strategy.