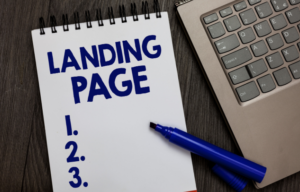 Everything You Need to Know About the Best Landing Pages
The best landing pages are an essential part of online marketing. In fact, the goal of many digital marketing initiatives is to convert online visitors to leads through targeted landing pages. As soon as your customer arrives at your site, you want to entice them with a clean, concise, appealing call to action. Crafting a landing page involves integrating striking design elements with clear messaging.
Stuck on your landing page design? Here are our top tips on crafting an effective landing page that yields high-quality results.
What are the Best Landing Pages?
A landing page is where online visitors "land" when they follow advertising links to your website. Unlike a home page, which offers customers a variety of navigation options, a landing page has a single focus.
Landing pages typically engage with customers by encouraging them to sign up for exclusive product-related content like email lists or special offers. To this end, your landing page needs to grab your customers' attention and demonstrate the value of your brand.
Focus on Benefits
When a customer arrives on your landing page, you have seconds to convince them you're offering valuable benefits. This is why a striking headline is so essential when it comes to encouraging new leads to engage with your brand. A strong headline should communicate your value proposition, and present a concise call to action. Successful CTAs are eye catching, with easily identifiable clickable links or forms. Be clear about what you want customers to do by using active language like "sign up here" or "download now."
Utilize Graphic Design
A well-designed landing page goes a long way. Since consumers are constantly inundated with online content, your landing page needs to stand out from the crowd. While we don't recommend going over-the-top, strong graphic design elements or striking color schemes help set your brand apart.
Graphic design ideas include:
Bold, legible lettering.
Eye-catching colors.
Hyper contrasted black and white designs.
Brand-specific elements like logos.
Be judicious with the design elements you include, and make sure they don't distract from your call to action. The goal is to be bold and memorable without overwhelming visitors.
Choose Persuasive Copy
Once you have your color-scheme or images selected, it's time to add in the copy. Copy on landing pages needs to be brief and concisely articulate the benefits that you're promoting. Stay away from long paragraphs of text and stick to concise sentences or bullet points.
If visitors are arriving at your landing page through a PPC (pay per click) advertisement, create cohesive messaging between your landing pages and advertising campaigns. This will foster a sense of consistent branding across multiple platforms.
The Best Landing Pages Keep Lead Forms Simple
Forms on the best landing pages should be short and sweet. Prospects probably aren't interested in filling out an entire personal information sheet when they enter your website, so successful forms should only take a few seconds to complete.
Additionally, prospects who are just getting to know your brand may not want to disclose personal information like phone numbers or street addresses. A simple name and email address is enough to establish connection with a prospect, while still respecting their privacy. If a prospect builds trust with your brand and decides to make a purchase, then you can collect further data like a phone number.
Eliminate Distractions
Remember that your landing page is not your home page. This means that a landing page doesn't need to provide customers with all the navigational options or company information that a home page provides. In fact, landing pages are most effective with minimal distractions.
To streamline your landing page, eliminate elements like:
Menu bars.
Links to social media.
Pop-up adds.
A clean, easy-to-read landing page should direct your customers' attention to the CTA, not other elements of your website.
Outsourced Development Companies Provide the Best Landing Pages
When you work with an outsourced sales development company like Acquirent, you gain the benefit of professional insight into effective marketing tactics. From building a landing page, to training your sales professionals, to providing marketing management resources, Acquirent offers personalized solutions to help your business thrive.
Interested in taking the next step? Contact us today for an initial consultation.