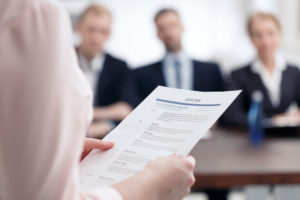 6 Tips to Write an Effective Sales Manager Resume
When people sit down to write a resume, all too often they take their template and just change a few details to match the company. The correct way to approach writing a sales manager resume is to tailor each resume so that it is specified to each position you're apply to. Here are six tips to write an effective sales manager resume.
Have a career objective
Start your resume by writing a solid career objective. The purpose of your career objective is to show why you're a suitable candidate for the position you're applying to. "Give them a very general, brief summary of your abilities and experience, as well as touching on some of your career achievements. Then get into some specifics of why you're qualified for the job. An example is to mention that you have a track record of successful leadership in sales management positions," suggests Sharon Jones, resume proofreader at OXEssays. Finish off this section by listing off your relevant education and certifications. Remember that a career objective is just a summary of your resume, you can go into details further down.
Use targeted language
You don't want your resume to be very long, so be economical with what you include, that means using targeted language. Use language that is descriptive, as well as industry-specific; think "sales operations" and "retail channels." Think of your audience, you don't need to be afraid of using buzzwords, because your reader will understand them. Try and use words that are associated with action and execution, such as "strategize" and "implement."
Use numbers to demonstrate your experience
The expression "show, don't tell" is something to keep in your mind as you write your sales manager resume. Use examples and numbers to demonstrate how you've benefited your previous employers. Rather than saying "I have experience running sales campaigns," quantify that by saying something like "I launched a sales campaign that resulted in a 15% increase in quarterly profits." See the difference here? In the second example, the hiring manager is able to imagine you doing that same thing at their company.
Don't forget skills and certifications
Include a section where you talk about your transferable skills. These are skills that you can bring to the position, but you haven't already mentioned in the context of your past experience and success. Don't forget to mention things such as assets and personal attributes as well. This could include things such as having established a personal network of contacts in certain distribution channels. You'll also want to include any certifications you've received that could be relevant to the job. This could mean anything from being a project management professional (PMP) to being familiar with customer relationship management (CRM) software.
Adjectives are a great way to highlight something
Using adjectives is a great way to give an extra boost to your resume. These words can be extremely useful for indicating things such as action and initiative and are very effective at describing your experience in the best possible way. Some good adjectives for a sales management position include: strategic, resourceful, enterprising, determined, enterprising, and creative.
Online tools can help you write your resume
One of the most important aspects of any resume is being well-written and edited. Lots of people struggle when writing a resume, so don't hesitate to get some help from the experts. Here are a few good places to start:
#1. Resumention – Try out this resume service, they have resources specifically targeted at writing and improving resumes.
#2. ViaWriting and WritingPopulist – These grammar resources can help you create a grammatically perfect resume. If you want to be taken seriously by a hiring manager, your resume can't have any mistakes or errors in it.
#3. BigAssignments and EssayRoo – Check out these online proofreading tools. They are very reliable and have been suggested by AustralianReviewer.
#4. SimpleGrad and StateofWriting – These blogs are full of useful suggestions on how to improve your business writing skills.
#5. BoomEssays and UKWritings – These editing tools, recommended in Boomessays review, will help you ensure you are submitting a technically flawless resume. A single typo can disqualify you for a job, so don't risk editing on your own.
#6. MyWritingWay and LetsGoandLearn – Read through these career guides. They have the information and advice you need to write a good resume and succeed in the interview.
Conclusion
Your best bet at nabbing that sales manager job is a resume that is created specifically for the job you're applying to. Your resume should include all the elements that have been discussed in
Author: Grace Carter
Grace Carter is a career blogger at Australianhelp.com and Eliteassignmenthelp.com websites. She writes about resumes, career search, interviews and onboarding. Also, Grace develops a course on art of presentations at Academized service.