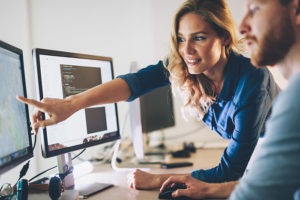 Top 10 Essential Technology Platforms for Succeeding in Sales
What Are The Essential Technology Platforms in Sales?
We're living in an era where sales technology isn't optional. It's the foundation of a successful sales team. Of course, the human element will never go away. However, to truly excel in sales, today's human element needs technology.
Regardless of your sales strategy, here are 10 essential technology platforms that will help you achieve it.
1. Data cleansing solution
Before a business development rep (BDR) makes a single call, they must have an accurate list of contacts. Otherwise, they would be wasting their time either calling wrong numbers or calling the wrong people within the organization. List scrubbers like Zoominfo and Seamless.ai helps BDRs generate reliable lists.
2. Actionable contact intelligence
Having a list is one thing. Having true intelligence about the contacts on that list is quite another. For a BDR, data is very important. It's good to know what moves leads are making in the marketplace. Clari is a technology platform that helps BDRs gather the type of actionable insights they need to focus on key deals at the right time.
3.Integrated, automated dialing
One of the most important technologies for BDRs is a dialer. Because it automates the process of calling a list of contacts, BDRs can make more contacts with greater efficiency. You want a dialer that plays well with your CRM. This avoids the time-wasting manual task of typing information about prospects into your CRM. The one we use is Salesvue. Marketed as sales acceleration software, Salesvue has a fully integrated dialer. We also like it because it works seamlessly with Salesforce, and that's essential.
4. Task automation
Task automation technology allows you to build a cadence so that your contacts are reached out to at the appropriate time. Instead of spending time picking and choosing who to call, and when, task automation technology will follow the schedule you set for each contact. Again, we use Salesvue.
5. Email automation coupled with artificial intelligence
For inbound sales, email automation is crucial to the success of email campaigns. An email automation platform like Drip allows you to build an email cadence that converts. It's another form of task automation. You may find that a cadence that includes three emails and four calls works best. No problem. Just program the cadence into the platform and let it perform the appropriate email action. When it's time for the call portion of the cadence, simply switch over to the dialer.
Another valuable tool to reach people who don't answer their phone is Conversica. It's an artificial intelligence platform that holds email discussions with contacts. It is intelligent enough to make the first contact, prioritize the best leads, set appointments, and send the lead to an account executive to hold a meeting and close the deal.
6. A robust CRM solution
Of course, the foundation of any technology stack is the CRM. Without a good CRM, salespeople would have to go back to complex Excel spreadsheets along with pen and paper. The efficiency of CRMs keeps contacts organized into categories that matter as you move them through the sales funnel. CRMs also keep track of customer interactions. Whether it's a call or an email, you only have to look to one place. Like many other organizations, we use Salesforce. That's partly because we can integrate the other tools we use with it.
7. Opportunity management platform
Account executives must be constantly focused on opportunities to close deals. Technology platforms like DealSheet or Altify drive revenue growth by performing sales execution tasks better than an account executive can do manually. It extends the capabilities of the CRM by helping them qualify, manage, and close the deals that matter most. Again, these tools integrate with Salesforce to ensure all of the business intelligence is in one place.
8. Modern conferencing technology
Technology can't close deals. That's why its important for account executives to have a solid communication platform. The leads they will be calling upon may be located anywhere in the world, so the technology must suit the purpose. GoToMeeting offers very robust meeting technology with built in video conferencing. It also offers automatic transcripts. Skype for business is also an excellent choice because it integrates seamlessly with Microsoft Office 365. Uberconference is a low-cost contender. Each allows for sharing screens and recording meetings.
9. Content management and sharing tools
Content management and tracking helps account executives work closely with marketing. This type of platform is designed to help deal makers get the content that they need to share with their leads. With it, account executives can find the right collateral from a centralized location. They can then send that collateral to their lead without triggering spam filters. Ultimately, they can track clicks to see when, where, and how the collateral is viewed. This gives the executive clear insight into how prospects are interacting with their collateral.
Additionally, the best-in-class platforms allow for presentations to and from any device. Once the content is selected, the account executive can present a flawless presentation from their laptop, tablet, or smartphone. Docsend is one of the leaders in this technology platform category. Showpad is also a great tool.
10. Electronic contract execution
Finally, once the deal is done, the deal documents must be signed. This platform allows for creating, sending, tracking, and eSigning client-facing documents. After a proposal, quote, or contract has been created, the account executive can create a signature box at the end of the document. Then they simply email the document to the new customer who will sign the document. Because the system is cloud-based, the new customer can click on the space where their signature is needed to digitally sign the document. PandaDoc is an excellent option that also integrates with Salesforce.
Choose your tools wisely
Technology is an extremely valuable sales accelerator when used correctly. That's why it's important to choose your tools wisely. While functionality is a key consideration, any new tool should also be carefully evaluated on the integration capabilities with existing tools in your sales enablement technology suite. Sometimes integration is technically feasible but carries high costs in the development and maintenance of integration.
It should be noted that the functionality of some of the tools listed above do overlap, so one tool may be able to accomplish several of the tech needs of your sales team. Moreover, this list is not an endorsement, but a sampling of some of the great sales productivity tools that we've found enable our success at Acquirent. Leading sales organizations leverage technology to support these ten key functions. At Acquirent, we have the expertise to seamlessly manage all these tools on behalf of our clients and in support of their sales goals.