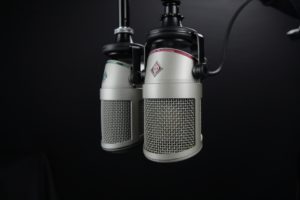 The Benefits of Outsourcing: Key Takeaways and Insights from Joe Flanagan on All Things Sales Podcast
Photo by Gavin Whitner
It's no secret that there's a science behind creating successful sales teams.  It's also no secret that successful sales people have the ability to make connections and that is what Joe Flanagan, Acquirent's CEO, is all about.  A few weeks ago, Joe spoke with Chuck Chesler and Larry Dillon from the All Things Sales podcast.  You can listen to the full interview here but I thought it would be helpful to recap the interview and dive a little deeper around who we are, what we do here at Acquirent.
Recruit. Train. Manage.
Acquirent is one of the country's leading outsourced sales and marketing firms. We do three main things for our clients, we recruit, train and manage our clients inside sales teams. Our effectiveness stems from our experience, empowering our people with the right tools and resources, but again, having a sales force that excels at creating deal flow and relationships with their prospects.
5 Key Attributes of Top Sales People
At Acquirent we believe there are five key attributes that make up a great sales person. The first being a positive attitude. Having a positive mindset keeps sales people motivated knowing their efforts will produce results. The second key attribute is asking good questions. When a sales person asks targeted questions, this opens the prospect up to reveal true pains and selling points. Asking good questions leads seamlessly into the third attribute of a great sales person, shutting up and listening. A sales person must listen to their prospects pains and have the ability to apply those pains to the sales process. The fourth attribute is product knowledge. A sales person must have a strong understanding of their product and offering to build value for the prospect. The fifth and final attribute of a great sales person is grit. Sales is tough, you must have the grit and mental fortitude to get up and keep going.
We work with companies across a myriad of industries, such as medical and technology.  However, no matter the industry the conversations with Acquirent prospects kick off by talking through the prospect's core competencies, identifying the gaps. Acquirent is then brought on to recruit, train and manage their inside sales teams.  We also have expertise building information systems to leverage CRM's and help companies better understand their pipeline. Acquirent is a Salesforce.com shop. We build custom instances of Salesforce.com for our clients to provide insight and visibility on the data we collect throughout a given campaign.
Full Sales Cycle or Business Development
Acquirent typically plays two different roles for our clients. For some clients we are owning the full sales cycle and taking opportunities all the way to the close. Other clients, we are in a lead generation, appointment setting and demo setting role. The role we play typically depends on how our client's sales processes are structured. When Acquirent sales people are in closing roles, we are the face of that given campaign for our clients. We own the prospect relationships, taking on the persona of our clients. In a lead generation and appointment setting role, we are typically feeding our clients sales teams. For example, some of our clients have outside sales teams. An outside sales person's job is to be in front of prospects, usually spending a lot of time in transit. Acquirent sales people play a key role prospecting and feeding our clients outside sales reps to ensure their pipeline is full with qualified prospects.
Sales is tough. Organizations look to outsource their sales for a number of reasons. Whether your organization struggles with finding quality sales talent, or if sales just isn't a core competency, Acquirent can be of assistance. At Acquirent we are experts in solving the unique challenges organizations face with their sales and marketing initiatives. If you're interested in learning more on how Acquirent can help recruit, train, and manage your inside sales team please visit us here