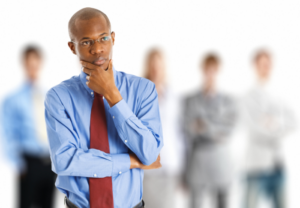 Creating a B2B Thought Leadership Strategy
A B2B thought leadership is all about ideas, innovation, and goals – a strategy can help align these into actionable advice for prospective customers. Successful thought leadership strategies differentiate your business from the competition, and offer your target audience valuable and insightful information about your brand. The goal is to tap into what makes your business unique, and to celebrate your expertise.
For executives looking to refine their thought leadership strategies, we've broken down the process into actionable steps. Here are our top tips on how to create a successful thought leadership strategy for your business in 2022.
Define the Goals of Your B2B Thought Leadership Strategy
Before you start developing marketing plans or writing blog posts, it's essential to reflect on your goals. After all, it's easier to develop compelling content when you're working towards a specific objective.
Ask yourself what result am I trying to achieve? Then, you can reverse-engineer your thought leadership strategy to build up to your desired outcome. Goals focus marketing initiatives by providing an inspirational framework for specific campaigns. Whether you're trying to increase web traffic or brand awareness, keep everyone in the loop about companywide changes or new products.
Identify Your Target Audience
All effective marketing campaigns speak to a specific target audience, and thought leadership strategies are no exception. To hone-in on your target audience, start by identifying the decision-makers at prospective client companies. Then, you can create buyer personas based on factors like location, industry, and pain points. Effective thought leadership content should speak to each prospect's individual challenges, rather than broad themes.
Thought leadership content should strive to answer questions and provide insight into your company's strengths. To develop thought leadership content that engages decision-makers and builds trust in your brand, ask yourself: What are my target audience's pain points? What solutions do I provide?
Find the Experts in Your Company
Look within your own organization to find innovative and idea-driven individuals to help craft your thought leadership plan. These team members will be the specific media experts (SMEs) who provide valuable advice and ideas regarding industry-specific themes in your thought leadership strategy.
SMEs provide credibility when it comes to presenting an idea or concept to your target audience. Depending on their expertise, you might collaborate with these individuals to create content, or ask for their opinions and feedback before releasing new materials.
Transform Ideas into Content
Demonstrate Your Expertise
When it comes to creating thought leadership content, it's important to stick to a unifying theme and demonstrate your expertise. Don't be afraid to dig into individual professional experiences and insights from your in-house thought leaders. Remember, sharing unique content will help set you apart from the competition.
Unify the Tone
When you create thought leadership content, you're representing the tone, values, and unique perspectives your business has to offer. Pay attention to the tone of your content: does it match your brand's voice? Align the overall tone of the content with your goals and the values of your company. Then, you can alter the tone to reflect specific content (e.g. friendly, scholarly, assertive etc.)
Publish on Multiple Channels
Diversify the kind of content you publish and where you publish. Although platforms like blogs are extremely valuable, make sure you offer a diverse array of content on multiple channels. Some content publication ideas include:
Whitepapers
eBooks
Blog posts
Research studies
Webinars
Video demonstrations
Support long-form content with social media posts, email campaigns, and short blog posts to pique interest and spread awareness.
Keep an Eye on the Competition
Pay attention to what other businesses are publishing for their thought leadership strategies. This will help inform elements of your thought leadership strategy, and keep you up-to-date on industry-wide trends and popular topics. To get an overview of the competition, track elements like frequency of posts, content platforms utilized, content topics, and target audiences. This may also identify holes in their content, which you can fill with your own publications.
Develop a B2B Thought Leadership Strategy with Acquirent
Instead of depending solely on your in-house team, consider partnering with an outsourced sales development company. At Acquirent, we offer professional sales development services, marketing strategies, and sales training programs, designed to enhance your business's unique strengths and foster long-term growth. Our team of dedicated development reps bring innovation and expertise to the table, helping you develop ideas and implement solutions. Contact us today to get started!