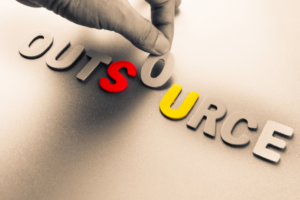 What Does Outsourced Sales Mean?
For large and small businesses alike, partnering with an outsourced sales company is a fantastic way to reach new audiences, increase brand awareness, and gain more qualified leads. Working with an outsourced sales team helps redistribute sales responsibilities, so you're not solely relying on your in-house reps to develop new leads while nurturing current customers and closing important deals.
Sales outsourcing supports your current business while introducing your company to new opportunities. Whether you need support with lead generation, lead qualification, email campaigns or other tasks, an outsourced sales team will help your business expand and thrive.
What Does Outsourced Sales Mean?
Outsourced sales teams are comprised of highly trained sales reps, focused on developing your sales strategies and acquiring new leads. The beauty of outsourcing is that it gives you time and space to focus on other areas of your business. Since outsourced teams are there to support your sales force, you don't need to worry about overstretching in-house employees.
A few examples of outsourced sales tasks include:
Cold Calling
Cold calling is an important part of the lead generation process. Although cold calling is frequently maligned as an ineffective technique, it's still a viable way to garner new business.
Cold calling is often time consuming, since the percentage of calls that turn into qualified leads is generally quite small, so this lead generation technique requires patience and perseverance.
Working with an outsourced sales team alleviates the burden of cold calling responsibilities on your in-house sales reps. Since an outsourced team has more time to devote to cold calling, they can reach a larger percentage of potential clients and identify more qualified leads.
Email Campaigns
Email campaigns are another effective sales prospecting technique utilized to unearth new leads. Similar to cold calling, cold emailing typically requires numerous attempts before a rep makes contact with a prospective customer. This is why successful email campaigns require careful planning and creative marketing. The goal is to intrigue and attract customers while avoiding being overly pushy.
Outsourced sales teams specialize in crafting brand-oriented email blasts that are intriguing and approachable. With access to sophisticated data analysis tools, outsourced sales reps have the latest technology to track the success of individual email campaigns and tailor future campaigns to align with those trends.
Social Selling
Reaching out to prospects via social media is an effective, laid-back way to make new professional connections. Outsourced sales development teams use their expertise and network of professional connections to enhance you company's social media presence.
What does an Outsourced Sales Team Do?
If you're looking to improve your sales strategies and nurture you employees, outsourcing hones crucial elements of the sales cycle while simultaneously alleviating the burden on your in-house reps.
Increased Focus
Without constant pressure to complete cold calls and find new leads, your in-house team will be able to focus on their specialized sales tasks. On the other end, your outsourced team has the bandwidth to devote all their time and energy to reach specific lead generation goals.
Less Expensive
While it's true that outsourced sales companies charge contracting fees, at the end of the day it's likely more expensive to hire, train, and pay a new in-house employee than it is to work with an outsourced team. Plus, many sales outsourcing companies allow you to scale their services to work with your budget.
New Markets
Since outsourced sales development teams have access to professional networks, prospecting tools, and sales insights, it's easy to reach new marketplaces. This is the kind of benefit you can only gain by working with a team of highly trained reps who know sales prospecting inside and out.
Outsourcing You Can Trust with Acquirent
Find an outsourced development company that's dedicated to meeting your needs. When you partner with Acquirent, our team of professional sales reps is there to support your team and improve your sales cycle. Acquirent is a one-stop-shop for sales development services. From lead generation, to marketing support, to in-house training, Acquirent is there to help you build a cohesive sales strategy. With scalable payment options it's we guarantee you'll be able to fit Acquirent into any budget.
Contact us today to get your free quote.