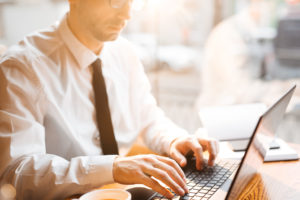 The Difference Between Outsourced B2B Lead Generation & Outsourced Full Cycle Sales
Using an outsourced b2b lead generation company may seem to be a challenging proposition for business at first. However, outsourcing helps businesses in the private and public sectors unlocks many benefits. If you outsource any business function properly, it'll help you boost business efficiency, cut costs, and accelerate product development. Eventually, these benefits will result in a business having more time to focus on refining its product quality, improving its customer service, and strengthening its core competencies.
Most businesses get confused when they try to understand the difference between outsourced sales functions and outsourced B2B lead generation. If you're one such business owner, reading this blog will clear the air. Here, we'll discuss outsourced full cycle sales and outsourced B2B lead generation individually. That way, you'll know how one is different from the other and can finally decide which of the two will help your organization achieve its goals.
When does outsourcing your entire sales function make sense?
An ideal sales outsourcing solution depends on your business requirements – it depends on where your business is at the moment, and where do you want it to be. When your business embraces outsourcing, it can slash overhead costs while extending the sales coverage at every step of your prospect's journey to becoming a buyer.
Partnering with an outsourced sales team means revising your current sales processes. You'll need to locate the gaps where your customers are most likely not hearing from you; these gaps can be in either pre-sales or post-sales processes. Additionally, you could even determine underserved markets or pinpoint the specific customer segments requiring expansions. With these analyses at your fingertips, you'll get a clear picture of your existing sales cycle. That way, you'll quickly identify the areas requiring improvements. Eventually, these discoveries will help your sales partner to work more effectively.
When does outsourcing B2B lead generation make sense?
Keeping your business healthy requires you to provide a steady source of qualified leads. For a start-up, the process of finding leads and sustaining growth will require a predictable method. This method will help your business generate a consistent flow of leads in the pipeline; also, the method should strike a perfect balance between your product's quality and price. That way, an organization will successfully grow and sustain its growth trajectory.
The benefits of outsourcing lead generation will come with a package. Lead gen isn't like any sales process—instead, it's a combination of science and art. The fact is, some companies only specialize in this particular phase of the entire sales cycle. What if lead generation isn't one of your strong suits? That's when outsourcing lead generation will be your best bet.
Let's understand the situations in which outsourcing lead generation will make sense for your business.
Here's when you should outsource only the B2B lead generation process
To develop a scalable business model for your organization, you should outsource your B2B lead generation work, especially when you lack the expertise or time. You should head toward the decision of outsourcing B2B lead generation when:
You lack the resources to recruit dedicated staff to handle lead generation
Your lead-gen activities chiefly center on cold calling
You have a proven lead-gen process but don't have the time to work on it
By harnessing outsourced processes and resources, you'll get access to an optimized plan that'll help your business drive ROI from any lead-gen initiative. A dedicated lead generation partner will go a long way in enabling your business to discover sales qualified leads or SQL.
Finding a reliable outsourcing partner will help you overcome challenges related to sales and lead generation. Your search for the most dependable outsourcing partner for all things sales and lead generation ends with Acquirent.
Acquirent: An Outsourced B2B Lead Generation Partner
What makes us different from any other outsourced b2b lead generation company? We provide constant feedback on what we're seeing, and provide you with the information. We are a part of your team, rather than a siloed division.
At Acquirent, we have sales and lead-gen experts, proven processes, and cutting-edge sales enablement technology to help outsource every sales function and leg-gen activity seamlessly. We work as an extension of your internal sales team to empower you to realize your sales and lead-gen goals as quickly and cost-effectively as possible. Get connected with our team to discover how our outsourcing teams will help your business grow.