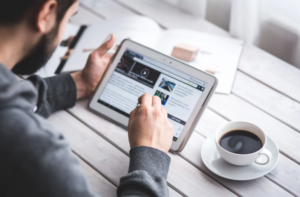 Does Social Media Impact B2B Sales?
Does social media impact B2B sales? As we look ahead to 2022, it's time to upgrade sales and marketing strategies to meet the new year. In an age where technology is a key aspect of any sales strategy, more businesses are turning to social media as a cornerstone element of their sales techniques.
In the B2B sales world, social media is a seamless way for companies to expand brand awareness, educate prospective clients, and speak to prospects' pain points. When used effectively, social media provides prospects with valuable information about your company in a low-key format.
Interested in the benefits social media has to offer? Here are the top three ways that social media impacts B2B sales.
#1 Social Media Impacts B2B Sales By Expanding Brand Awareness
There's no doubt that social media is a powerhouse when it comes to spreading the word about your brand. From marketing campaigns, to informational videos, to exclusive offers, social media provides a one-size-fits-all platform to promote your brand. One of the more advantageous elements of social media is the ability to easily share content. This means that customers looking for solutions may stumble upon your company through a shared post or thread.
The power of social media to connect likeminded companies is why many executives use social media during their decision process. According to an article from Forbes on social media use in B2B sales: "83% of executives that choose a vendor on behalf of their company use social media in their decision-making, and 92% of that segment says that social media influenced a purchasing decision within the last year, according to our research."
This means that executives recognize the impact social media has on a company's image by providing a hub for marketing and educational materials. Easy to share, user-friendly content is part of any successful campaign to raise brand awareness.
#2 Educating Interested Prospects
Another powerful use for social media is educating prospective clients about your brand. Many businesses find that connecting with clients is easy, but conveying their mission, values, and product details in a concise and engaging way takes care and finesse.
The more consistent and engaging the content is, the better. B2B sales can be an overwhelming experience wading through pages and pages of overly informative jargon. The best way to engage customers is through strategic and eye-catching content. Forbes expands on this point by adding that "the key, as is the case with much of B2B marketing, is to use social media as a way to deliver engaging content, not as an exclusive mouthpiece for your product and service demos."
Don't overdo it. Think of social media as an immediate and user-friendly way to engage your prospects, not a repository of facts and figures. Social media is social, which means that the content has to lend itself to discussion and sharing among interested individuals online.
#3 Empathizing with Clients
Finally, social media allows your company to engage with prospects on a personal level. This doesn't mean that social media needs to breach any professional boundaries, rather, social media may be a more personal and honest way to discuss the benefits that your brand has to offer.
Every client who engages with your social media has their own set of problems they're trying to address. The role of social media is to connect with those clients by speaking to their unique and urgent needs. Social media is a platform where you can demonstrate how your product will address your prospects' problems, and provide relatable, real-life content to illustrate the benefits that your product has across a variety of situations.
The aim of this kind of targeted marketing is to demonstrate to your prospects how your company is uniquely suited to address their needs and provide value to their lives.
Incorporating Social Media into Your Overall B2B Sales Strategy
Adding social media to your array of sales tools can certainly be an overwhelming first step. After all, there are so many platforms to choose from, even selecting the "right" social media may leave you feeling paralyzed.
The good news? It's easy to incorporate social media into your sales strategy when you work with an outsourced sales development firm. Armed with a thorough understanding of the current sales climate and trends within social selling, outsourced sales and marketing companies help your brand grow by promoting your company to your target audience. Working with a sales development company not only lessens your burden, but empowers you to utilize the full potential that social media has to offer.
At Acquirent, we're committed to working with all our clients to find creative, budget friendly solutions for all your marketing needs. Acquirent's team of full-time reps are here to help you navigate the confusing sea of social media, and harness it's potential to help your brand thrive.