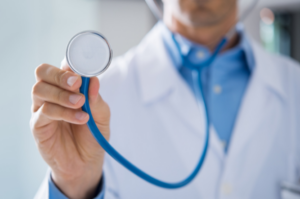 5 Strategies for Lead Generation at Healthcare Companies
Workers in the healthcare industry know that running a successful practice isn't only about patient care. Marketing your practice to encourage a steady flow of new patients ensures that you remain a successful care provider for years to come. Lead generation for healthcare companies is vital to your success.
Although healthcare is an essential element of every person's life, marketing healthcare services can be tricky since you're not selling new gadgets or software programs. Here are our top five tips on how to implement sustainable lead generation strategies for your healthcare company.
5 Strategies for Lead Generation at Healthcare Companies
#1 Create a Strong CTA
Visitors who initially land on your website need to be engaged from the moment the page loads. We don't mean that your website needs to flashy or include complicated graphics, all you need is a strong call to action. A call to action (CTA) encourages customers to engage with your website upon landing on your home page. Your CTA might include:
Asking new patients to fill out a contact form.
Offering subscriptions to an email newsletter.
Providing a virtual appointment hub.
Above all, your website should be user-friendly, elegant, and provide patients with quick access your services.
#2 Clearly Post Your Contact Information
As a medical service provider, you need to ensure it's easy for patients to get in touch with you! Adding a clearly labeled "contact" section on your website is a must for attracting new patients. Contact info should include your phone number, email, physical address, and links to any relevant social media. If you offer patients the option to schedule appointments online, make sure you have an accessible platform for virtual scheduling.
#3 Prioritize SEO
SEO (search-engine optimization) targets frequently searched "keywords" from your website so it's easier for prospective patients to find you through a generalized web search. The idea is to increase your overall visibility by identifying key phrases that connect to your site. SEO starts by reworking your existing web content to include relevant keywords. Elements to optimize may include page titles, website copy, and meta descriptions.
Another great way to prioritize your SEO is to create a regular e-publication like a blog. By posting regular blog articles online, you provide prospects with helpful information while also increasing keyword presence. Blogs published by medical practices offer readers at-home care tips, illness prevention tips, and new findings in the medical field.
#4 Lead Generation for Healthcare Companies Starts With an Omnichannel Approach
There are many ways that users interact with businesses online. Some prospects prefer to connect through social pages while others prefer to send an email. To increase your overall online presence and appeal to a wider audience, it's crucial to integrate multiple channels into your online marketing. Omnichannel marketing provides users with the same high-quality online experience across multiple platforms. This means that your social media pages need to link to your website, and vice versa.
With more patients seeking virtual care, it's essential to upgrade your online presence and integrate your various platforms. A prospect considering your medical practice should be able to connect with you easily through any channel.
#5 Encourage User Reviews
Favorable online reviews are one of the top reasons that patients choose a new medical practice. To this end, it's a wise idea to provide patients with access to review pages and to encourage patients to share their experiences. Many practices feel nervous offering online reviews for fear that bad reviews will impact their reputation. But demonstrating your openness to feedback, and swiftly rectifying any negative reviews ultimately demonstrates how invested you are in patient care.
Let Us Take Care of You: Lead Generation for Healthcare Companies
At the end of the day, many medical practices simply don't have the resources to dedicate to online marketing initiatives. Instead of stretching your employees to the breaking point, why not call on the professionals to give you a hand.
At Acquirent, we specialize in lead generation, marketing management, and sales development across a wide range of industries. From medical practices to tech companies, or team has the expertise to successfully meet your lead generation needs. At Acquirent, we prioritize customer satisfaction. We know that every company is unique, which is why we provide individualized services tailored to attract your ideal customer. Contact us today to get started!