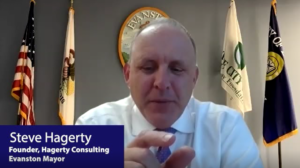 Being Community Leaders: Joe Flanagan Speaks With Mayor Hagerty
Business leaders serve a vital function in their companies – but what role do they serve as community leaders? It's true that as leaders, we often get caught up in the moment. We have clients whose needs we must serve, and failing to produce results can have lasting consequences not only on our employees, but their careers, their families, and their way of life. Distracted by this, we might neglect the vital role we serve in our towns and cities. Do business leaders have duty or calling to serve? Or should we be more invested in the bottom line?
Joe recognized that he had it lucky. As Chairman and CEO of Acquirent, he has been able to work from home, and continue to run his business even as other businesses and community members have struggled. He wanted to make a difference. So he called his friend Steve Hagerty, Mayor of Evanston, Illinois.
In January of 2021, an initiative between Connections for the Homeless and local restaurants was formed to help keep businesses running and people fed and sheltered. Toni Preckwinkle credited Joe Flanagan as the mastermind of this initiative. Joe was able to fundraise $30,000 through private donations, and secured $50,000 from the CARES Act.
What role do business leaders have as community leaders? CEO of 120/80 Sonny Sultani sat down to moderate a discussion between Joe Flanagan and Mayor Steve Hagerty of Evanston, Illinois.
Community Leaders Find Opportunity
This initiative was a triangulation of three groups that were able to mutually benefit from Joe Flanagan's work. Connections for the Homeless has been doing great work even before the pandemic hit – when things got bad, they were able to house 300 people experiencing homelessness in hotels around the city to keep them safe and secure. As people transition into housing, their need for food and work continues. Restaurants, of course, have been struggling during the era of COVID-19. Without indoor dining options, all of their income is now driven by food delivery. With both of these groups in need of support, Joe Flanagan saw an opportunity for success.
The nature of certain industries has kept some people financially secure during these tumultuous times. What many often fail to recognize is that these people genuinely want to help. Joe Flanagan was able to rally his resources and make the right connections.
The Role Business Leaders Serve as Community Leaders
According to the Chicago Tribune, the need for shelter among people experiencing homeless has doubled in the past year. What role do business leaders have in helping their communities?
Joe Flanagan is no stranger to the effects of COVID-19. His business was affected like many others, but he was able to spring back. Many business leaders might want to help their communities, but don't know where to start.
Businesses have to realize that even if you do business elsewhere, but we are grounded in our city. Our cities are like small ecosystems – we might not work in our communities, but we are stakeholders. Opportunities come and go, but we can seek them actively.
The government has taken less of a role in social services. Mayor Hagerty recognizes this more than anyone else. He has had to partner directly with Connections for the Homeless, as no organization for the homeless exists in their local government. By partnering directly with social service programs, he has been able to grow his community.
How To Help
Joe Flanagan is a successful business leader, but he sees himself first as a coach. Acquirent has functioned as an outsourced sales and marketing organization for years, but part of this is about recruiting, training, and managing promising talent.
Just as important to our model of serving our clients is in growing our community. In the past, our outreach has had an incredible impact on communities around us. We also have a stake in the careers of our salespeople. We want our teams to succeed, and our success translates directly to our clients and stakeholders.
Think about the world as a neighborhood. The good work we do around us pays back in ways we never expect. Find opportunities for success in the world around you. While it may not pay you back monetarily, good acts encourage good acts.