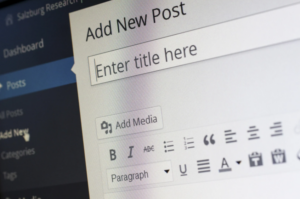 How Blog Posts Influence Outsourced Sales Efforts
When it comes to your sales and marketing strategies, publishing a well-crafted blog for outsourced sales is an effective way to gain website traffic and convert sales. Blogs effortlessly reach a wide audience, by providing useful and informative content to readers searching for solutions online.
But creating a well-run and well-written blog takes time and skill. For some businesses, devoting the extra resources to writing and publishing blog content detracts from other marketing initiatives.
The solution? Outsource your blog to a professional marketing team. Outsourcing your blog provides your company with consistent and well-written content while allowing in-house employees to devote their energy to other projects.
Why Does Your Business Need a Blog for Outsourced Sales?
Blogs provide useful marketing and sales benefits to businesses of all sizes. In short, blogs are a multi-faceted approach to garnering long-term results and enhancing brand awareness.
Blogs Drive Website Traffic
In the modern marketing world, one of the best ways to generate new business is to encourage users to visit your website. An easy-to-use blog offers customers the opportunity to engage with your brand in an informative way.
Content that highlights certain key-words and utilizes tags drives readers to your website based on relevant internet searches. If a prospect is already seeking answers to an applicable question online, then they will be more likely to engage with your product and the solutions your business provides.
Blogs Offer Digital Crossover
A blog isn't a one trick pony. Creating engaging and informative content will help enhance your social media and email marketing strategies as well as increasing web traffic. Blog posts are an excellent way to reach new audiences via social media, and neatly tie together online marketing strategies.
Blog posts are also a great addition to email newsletters and updates. Emails that include links to the latest blog posts encourage prospects to engage with your website.
Blogs Help You Gain Leads
The ultimate goal of most marketing techniques is to increase viable leads for your company. When you publish useful blog content, visitors to your website will see first-hand the expertise and insights your company has to offer.
Plus, blogs are an excellent place to include call to action buttons for your business. This encourages prospects to sign up for free samples or take advantage of limited-time offers. The call-to-action buttons links customers to an online form where they submit contact information like their email address and business affiliation. This allows you to target marketing strategies based on your prospect's industry and needs.
How to Craft a Successful Blog for Outsourced Sales
Outsourcing your blog may feel like a big leap of faith. After all, you're trusting an external marketing company to create and manage content that represents your brand. Here are some of the most important elements to keep in mind when creating a successful blog.
Target Your Content and Add Value
The primary reason that prospects visit your blog is to gain information about your company, or to gain more information about a relevant issue. The content you publish should be written with your ideal customer profile in mind and appeal to a wide audience.
Blog content also provides value to your prospects. This means that blogs should prioritize information and strategies, rather than personal anecdotes or unrelated content. The aim is to intrigue and inform visitors to your website, and demonstrate your company's knowledge and quality.
Plan Ahead
Working with an outsourced company requires detailed planning before the posts go live online. Creating a sustainable blog post schedule and planning content enforces structure and lends predictability to your online presence.
Planning your content may coincide with the time of year or recent developments in the news. For example, blogs written in December and early January often focus on reconfiguring business strategies for the New Year.
Be Frequent
Last but not least, it's imperative to get content out to audiences on a regular basis. Customers need to know that they can rely on your business when it comes to consistent material. This not only demonstrates exceptional follow-through and organization, but it also encourages frequent interaction between your business and promising leads.
Outsource Your Marketing Needs With Acquirent
At Acquirent we strive to provide our clients with high-level outsourced marketing and sales strategies. Our philosophy prioritizes customer satisfaction, ensuring that all our reps work with your business to find solutions that fit with your values and business goals.
Interested in changing your marketing initiatives in 2022? Get in touch with Acquirent to schedule your initial meeting today.