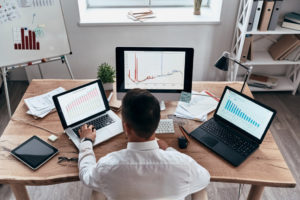 The Cost of Office Space: How Outsourced Sales Teams Save Money on Rent
Office space is expensive – can hiring outsourced sales teams help reduce rent costs for your business?
Major companies across the United States are now weighing their office space options. Many companies have spent the last year working from home. This has forced many companies across the US to become more agile, adopting radical sales technology that has pushed sales forward about 20 years.
With all of that progress, some employees are calling for hybrid models of work. Why go to the office every day? What benefits come from expensive real estate bills?
As Dr. Adam Goodman wisely says in an interview with our CEO Joe Flanagan, connectivity between employees matters a lot to the culture of a business. A distributed workforce may not feel the same loyalty to a company they don't feel personally invested in. As it turns out, much of our work day is actually spent networking within our own business.
For smaller companies who can't afford large office space, an alternative hybrid model might offer the best results: outsourcing your sales team. Connectivity within your business is important. Keeping a core staff in a smaller office while outsourcing sales can protect your core business.
How Much Should I Spend on Rent for My Business?
There's no set rule on how much a business should pay on rent every year. Some suggest that about 15% of your calculated revenue should be spent on an office space. This, of course, varies from business to business – retail, for instance, should be between 5 and 10 percent.
Is 15% too high? Businesses that are able to fully operate in remote settings can go far with that extra cash. It can be redistributed towards new employees that boost your revenue further. It can be spent on upgrades to your current sales or marketing tools. Point being – as businesses reconsider the value of an office, size should be a strong consideration. It may not be necessary to have your entire organization under one roof.
Office Space Doesn't Need to Include Outsourced Sales Teams
Experts have generally speculated that within five years, many of us will have returned to the office. However, businesses are in a special place for rethinking how they function. An office might only need to have some of their staff present at any given time. An agile office without assigned desk space can operate on less floor space with larger numbers of employees.
When you're rethinking office space, consider how outsourced sales teams can play a vital role in this transformation. Your current sales team might be small and focusing on high-level closes. An outsourced sales team can perform the busywork involved in this process. Rather than having your seasoned sales reps making cold calls, this function can be performed at lower cost by SDRs. Qualified leads can then be sent to your team.
Keeping a workforce agile can also prepare you for the worst. If your team suddenly finds itself in a situation where it can't return to the office, less of your budget has to be spent on expensive rent costs. Utilizing outsourced sales keeps your team flexible to change – prepared for the worst and much more scalable.
The Office Space of the Future is Flexible to Change: Outsourced Sales Teams Can Help
Advances in technology are part of the reason the United States has been able to weather the storm of a pandemic. Is your business taking full advantage of the technology you've adopted over the past year?
Over the past year, we have seen trends that we believe are likely to remain permanent. These include:
Less work trips and more virtual meetings between teams
Wide-scale adoption of technology allowing companies to work from home
Broader focus on capturing leads through virtual settings like chatbots
With so much that has changed over the course of only a year, we can expect that when we do return to the office, things are going to be a little different. Companies must be prepared for every contingency as we safely return to work spaces, including the possibility that we may have to go remote again.
Acquirent is a world-class leader in providing outsourced b2b sales teams to businesses ranging from startups to Fortune 500 companies. Businesses of all sizes (and offices) see the advantage of outsourced sales. Contact us today to learn more!