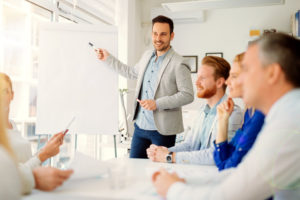 Difference Between an SDR, a BDR, & a Full-Cycle Sales Rep
Over time, sales development has become an integral part of most high-growth sales companies – do I need a full cycle sales rep, or something else? Without sales development, a business's selling capabilities would take a hit. Besides, lack of sales development would negatively affect the closing rates and corporate revenue too.
As sales enablement technologies advance, sales development has become more powerful with real-time business intelligence services, data analytics software, call performance monitors, and more. These sophisticated prospecting tools have fueled the evolution of sales development. With these advances, new sales roles are getting developed.
Today, most organizations have made three distinct roles important for filling the sales pipeline. These roles include sales development reps or SDRs, business development reps or BDRs, and full-cycle sales reps. Differentiating among these three roles is important for building a powerful sales force. In this blog, we'll explain these three roles in detail.
SDR, BDR, Full Cycle Sales Reps: Defining Each
SDRs
SDRs are inside sales reps focusing on outreaching, prospecting, and qualifying leads. However, SDRs aren't concerned with closing leads; their main job is connecting with as many leads ad possible and analyzing whether they fit a business's buyer persona. An SDR's job is to help leads move through a business's sales pipeline.
Before connecting with leads, SDRs learn about their business and challenges. If a prospect seems to be a good fit, SDRs will schedule the next step with a salesperson, such as an account rep or account executive, above them in the organization. In some big companies, SDRs may work alongside BDRs in building a business's prospecting database.
BDRs
BDRs channelize their attention toward outbound lead-gen and qualification methods; on the other hand, SDRs stay committed to generating inbound leads. As BDRs, salespeople will spend time finding out qualified marketing leads. Once the qualification process is over, BDRs convert cold leads into warm ones and then pass the lead details to sales.
The challenge for a BDR is that leads can come from different places. That's why most talented BDRs spend time researching potential leads. The research begins when BDRs network, use social media, research on Google, send emails, and make calls for generating leads that'll fill their sales pipeline. In a BDR's role, engagement is quite aggressive while they're targeting a cold prospect. That is, BDRs usually have to do a lot of work to receive a response.
Full cycle sales rep
In many companies, sales groups are divided into sales teams and business development teams. Nonetheless, a trend is gaining momentum among smaller companies where they use a full cycle sales rep. Also known as full-desk sales reps, these salespeople are responsible for prospecting leads, closing deals, and managing accounts.
This model usually works for early-stage companies with a small client base. But as businesses grow, full-cycle sales reps will have too much on their plate. That's when these salespeople will take different responsibilities of managing existing accounts without paying heed to their current pipeline. Eventually, they'll spend less time on prospecting leads and qualifying them. Here's where a strong lead-gen program comes in. Without having a well-defined system for generating leads, full cycle sales reps will get their pipeline depleted fast.
SDR, BDR, Full Cycle Sales Reps – Which is Right For Me?
Does sales development overwhelm you? If yes, then you should partner with an outsourced sales solutions provider. Here's where we, at Acquirent, come into the picture. As a leading outsourced marketing and sales services provider, we help clients from start-ups to Fortune 500 companies navigate their sales challenges confidently. Since 2004, we've helped businesses generate leads and uncover new growth opportunities.
When you partner with us, we'll hire, train, and manage your sales teams. Our outsourced sales and marketing teams work closely with clients to deliver an accountable sales solution. We effectively outsource the sales solution while focusing on training, metrics, and cutting-edge sales enablement technologies.
Our outsourced sales and marketing teams will bring a strong sales culture to your organization. If you want to outsource your sales and marketing functions to a fast-growing and progressive partner, we'll be your best bet. Talk to one of our experts today and discover how we can be an extension to your sales department.