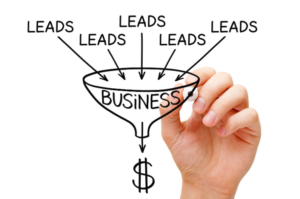 What to Look For in a Lead Generation Agency in 2022
Is a lead generation agency the right match for your business? The end of the year is a time to take stock of the previous twelve months. Have you achieved your business goals? Are you hoping to have a more growth-oriented year in 2022? If your New Year's resolutions include expanding your business and gaining new clients, then the first place to start is by hiring a lead generation agency.
The world of sales moves quickly, so it's important to select a lead generation agency that embraces new trends in 2022. Here's our list of some of the top lead generation trends every lead gen agency should prioritize in the new year.
Lead Generation Trends Every Agency Should Follow
Generating new sales for your business is part science and part art. Sure, some prospecting techniques hinge on meeting quotas and making cold calls, but prospecting also relies on intuition and following market trends. This is why it's important to work with a lead generation agency that factors in your individual needs as well as general trends to create a unique and business-savvy strategy.
Omnichannel Marketing
The first lead generation trend that all agencies should be aware of in 2022 is omnichannel marketing. This type of marketing capitalizes on the potential of multiple digital platforms. Essentially, omnichannel marketing creates a streamlined marketing experience across all your businesses various platforms.
When a client interacts with your brand on social media, they should be able to have the same experience on your website and in person. Omnichannel marketing is about prioritizing synchronicity between all your various channels. In a time when many people switch seamlessly between computers and mobile phones to conduct business, it's essential that your lead generation agency helps your company shine across all platforms.
Video Call Marketing
The COVID-19 pandemic has changed the landscape for in-person sales meetings. Gone are the days when a company could hold a large in-person seminar to detail the benefits of their products. Instead of mourning the loss of in-person events, successful lead generation agencies set their sights on encouraging video calls and online webinars.
Video calls, whether one-on-one or in a group, are an indispensable part of a modern marketing strategy. They allow you to make a personal connection with a prospect, while still maintaining a safe social distance. Lead generation agencies need to highlight the value of video communications to help clients gain new leads in 2022.
Webinars are also a fantastic way to engage prospective clients without the pressure of a personal meeting. This way, prospects can gain a preliminary sense of your company's mission and values without feeling like they need to make a commitment on the spot.
Value-Based Selling
The marketing landscape has certainly changed a lot in the last year, but customers' needs and values have changed too. Most customers aren't interested in making a large purchase simply because they are being offered a "great deal." Instead, customers are much more interested in learning about what the product directly offers them, and how it will improve their lives.
To address this change in customers' perspectives, lead generation companies need to focus on highlighting the value that products bring to a prospects' life, rather than focusing on prudent financial investments or sales trends. This type of selling places the customer at the forefront of the selling experience.
Chatbots and AI
Monitoring your website using chatbots helps customers gain quick answers when considering your product, and helps you save money and time by devoting man-power to other aspects of customer service. Chatbots are useful upgrades to help your website provide use-friendly customer care 24/7.
In addition, AI programs may help your business grow by providing thorough analytics and summaries of customer habits. Keep track of web traffic, clicks, and email subscribers, and use the relevant data to create a seamless customer experience online.
Email Marketing
Email marketing is perhaps the most "old fashioned" strategy included on our list, but it's a tried-and-true marketing technique that has stood the test of time. Crafting an effective email does take patience and skill, but email marketing remains one of the most efficient way to increase brand awareness and gain new clients. Lead generation agencies help you strategize and create an email marketing campaign that fits with you brand.
Stepping into the New Year with Acquirent
At Acquirent, our goal is to help our clients achieve their goals and expand their businesses by providing cutting-edge lead generation strategies and sales enablement technology. Our team takes into account your brand, marketing techniques, and ideal customer profile to craft an individualized growth strategy for your business.
When you partner with Acquirent, it's easy to turn you New Year's resolutions into a reality. Contact our team today to start the conversation.