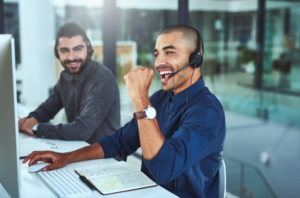 How Many Sales Calls Should an Inside Sales Rep Make?
How many sales calls should an inside sales rep make? Sales calls are an essential part of a well-rounded lead generation strategy. As a sales manager, it's your job to monitor your reps' call volume and make sure your team stays on track to reach their goals. But how many sales calls should your reps make?
While there's not a magic call number that will guarantee sales success, it's possible to calculate an ideal sales call volume based on factors like the size of your team, your target leads per week, and the average length of calls.
How Do I Calculate Sales Call Volume?
Start by setting realistic goals for lead generation. You may have heard the statistic that reps should complete 100 calls a day, but for many sales teams this isn't a realistic number. On the other end of the spectrum, completing 20 calls a day might not be enough to meet your sales goals. It's all about finding what works for your team.
Calculating Weekly Goals
According to Sales Trail it takes 6 calls on average to gain a lead. At the rate of 6 calls per lead, if you're hoping to gain 25 leads a week, that means your reps need to make 150 (or 6 x 25) calls a week (or 30 calls a day). You can use this simple formula to determine your weekly call volume. A more ambitious business hoping to gain 60 leads in a week needs to make 360 calls a week or 72 calls a day. Remember, this formula is a rough ballpark for estimating call volume, and you'll need to take other factors into consideration.
Time Spent on the Phone
Completing more cold calls doesn't necessarily result in more leads. Part of your calculation has to include the time your reps are spending on the phone, rather than the number of dials they complete. Reps who spend time building trust with a prospect and deliver a convincing sales pitch might have just as many conversions as reps who speed through their call list every day.
Conversation Quality
Are your reps having quality conversations that are productive and persuasive? It may not matter how long they spend on the phone or how many calls they make if they aren't connecting with prospects. Ensure you spend time refining interpersonal sales skills as well as focusing on call volume goals.
How Many Calls Should an Inside Sales Rep Make? Measuring Success
Sales call success doesn't need to hinge on call volume. Here are a few strategies to help your reps make the most out of their cold calls.
Utilize Value-Based Selling
Instead of focusing on the monetary aspects of a sale, have your reps focus on the value your product has to offer. Value-based selling is a personal, individualistic method that outlines the unique benefits a product offers and addresses specific prospect's needs and goals.
Make a Call Checklist
Whether you use a script or a call checklist, it's helpful to give your reps a guide to reference during their call. This will help keep them on track, ensure they include all the most vital information, and help alleviate pre-call nerves.
Warm Up Cold Calls
Cold calls don't need to be so cold! Start by reaching out to your prospects via email and social media before making a cold call. This way, you've made an introduction that reps can draw upon during their call.
Follow Up
Always let prospects know that you value their time and consideration. Follow up after any sales call with an email, social media message, or even a hand written note.
Use Outsourced SDRs
Instead of saddling your in-house team with the sole burden of lead generation, consider outsourcing some of your sales tasks to a team of professional development reps. Outsourced reps partner with your in-house team to efficiently complete lead generation goals. Partnering with an outsourced team allows in-house reps to focus on other tasks.
Choosing Acquirent
At Acquirent, we offer customizable sales development services to companies of all sizes. Our reps are passionate about helping your team achieve their sales goals. From lead generation, to recruiting, to sales training, Acquirent offers a full spectrum of sales support services. Plus, with Acquirent's scalable payment options, it's easy to build into any budget.
Contact us today to get your free quote.