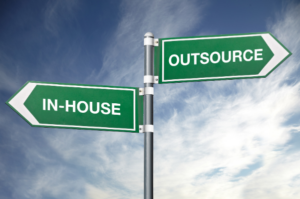 What is a Fractional Village in Outsourced Sales?
It's no secret that a strong sales team is the core of any successful business. Sales development reps are key players in the sales world, helping your business gain new leads, nurture prospects through the sales process, and close deals. But not all businesses can afford to hire a stable of SDRs on a full-time basis.
The solution?
Adopt a fractional approach to outsourced sales. With the help of fractional SDRs, it's possible to gain the benefits of professional expertise without breaking the bank. Here's what you need to know about working with a fractional village in outsourced sales.
What is a Fractional Village?
When hiring sales reps, most companies are looking for full-time workers to join their sales force. But some companies don't have the budget to take on full-time workers to supplement their sales goals.
For example, a sales manager might make $80k a year, while a professional SDR makes around $70k a year. Coupled with their benefits packages (typically 30% of their salary), sales license fees, database software fees, and training programs costs, it's not unusual for a company to spend up to $157k maintaining a sales force. Plus, on top of the financial investment, it could take anywhere from 3 to 6 months to complete the hiring process and train new employees.
For small and medium companies, a sales force of this scale simply isn't feasible. Instead of hiring full-time employees, consider adding a village of professional SDRs on a fractional scale. This means that instead of hiring in-house reps, or paying for full-time outsourced support, you're implementing outsourced sales support on a part-time basis. This way, you can gain the advantages of hiring outsourced development reps while sticking to your budget. Outsourced sales reps bring their knowledge and sales expertise to your business from day one, and with a fractional approach, it's possible to reap the benefits while still meeting your bottom line.
What are the Benefits of Fractional Outsourced Sales?
Fractional outsourced sales open up a world of opportunity for your business. With a flexible contract, you can benefit from the experience and skills of professional sales reps on your terms.
Part Time Work, Full Time Focus 
Outsourced sales reps are trained to focus exclusively on sales elements like lead generation, pipeline development, and sales team management. Since outsourced reps aren't juggling other professional responsibilities, they are able to devote all their energy and attention into developing your sales funnel. Fractional outsourced sales reps bring the same level of dedication and focus on a part-time basis. Gain the benefits of full-time workers without paying a full-time salary.
Devote more Resources to a Single Project
Working on a new sales initiative? Trying to reach a specific selling goal in a set period of time? Another way to utilize fractional sales support is to work with outsourced reps on a full-time basis over a short period of time. This way you have the flexibility to throw all your resources at a challenge or goal, and then scale-back once you've achieved your desired results.
Streamline Sales Tasks
Outsourced sales reps don't just generate leads. If you're hoping to revitalize your sales pipeline and maximize high-quality leads, outsourced SDRs have the tools to work with you on pipeline optimization and sales strategies.
Immediate Results
Outsourced SDRs are ready to hit the ground running as soon as you start your partnership. Unlike hiring new employees, when you work with outsourced SDRs there's no need to spend time and resources training and onboarding inexperienced reps. With access to the latest in sales enablement technology, outsourced reps have the tools to collaborate with your company and meet your sales goals on a full-time or part-time basis.
Fractional Outsourcing with Acquirent
Here at Acquirent we provide sales support on a fully scalable basis. Our top priority is to help your business achieve success, so we are committed to providing flexible sales services that fit into your budget.
When you partner with Acquirent, you can expect professional sales support on your terms. Since we value flexibility, we allow clients to grow, shrink, or pause our relationship in accordance to their needs. This allows us to provide unparalleled outsourced sales services to companies of all sizes.
Think Acquirent might be the right fit for you? Contact us today to request a quote!
When it comes to finding the best qualified sales leads, referrals are one of the most cost-effective and lucrative lead generation strategies. Instead of relying on cold calls, cold emails, or social campaigns, turn to your current clients for lead generation support. After all, you're more likely to have success with leads referred by loyal customers than leads gained through an online marketing initiative.
Wondering how to encourage referrals and gain more sales success? Here's everything you need to know about why referrals are excellent sales leads and how to earn them.
What are the Benefits of Seeking Referrals?
Referrals have a leg-up over other leads from the start. According to Forbes, referrals are an ideal way to generate leads because "referral sales require almost no financial investment, but they bring in very valuable warm leads." Additionally referrals are automatically primed to trust your company based on positive reviews from a friend, colleague, or family member.
Here are some of the other reasons why referrals are such a fantastic way to reach new leads:
Low Cost: Referrals don't cost you anything in terms of money or resources. Essentially, you're asking your existing clients to do a small amount of work for you in order to generate a new lead. Unlike other forms of lead generation, referrals have the potential to grow exponentially, since one current client can provide a large quantity of referrals.
Prior Interest: Since referrals are sent your way by a trusted friend or colleague, they are automatically primed to trust the quality of your business and are interested in learning more. This means that your reps are connecting with warm leads who have shown prior interest in your product or service.
Faster Sales Process: Instead of leading a referral through the initial steps of a sales process, you can skip ahead to a more information-based stage of lead nurturing. Referrals tend to move through the pipeline more quickly since they don't need as much initial familiarization with your company.
They Keep on Giving: The more referrals you gain, the more potential you have for future referrals. Every new client is an opportunity for countless connections and growth.
How to Gain Referrals
Many salespeople struggle with gaining referrals since it often feels awkward to approach a client and ask for a favor. Just remember, customers who are excited about your product will be happy to share their experience with others—sometimes they just need a little encouragement!
Ask For Referrals Early-On in the Sales Process
According to the same Forbes article on the benefits of referrals, many sales reps wait too long to ask for a referral and miss a crucial window of opportunity in the process. This is because "if you wait too long, the customer is no longer excited about the product." Even if a customer uses your product every day, the novelty-factor plays a huge role in the enthusiasm of recommendations. Don't be shy about asking a customer to refer a friend or colleague right away. If they are truly satisfied and excited, they'll be happy to encourage others to invest in your product.
Make Referrals Easy
Don't ask clients to do the work. Remember, they are already doing you a big favor by agreeing to provide referrals in the first place. To make your client's job simpler, include a referral email template with relevant product-information. This way, clients don't need to reinvent the wheel every time they send out a referral, and you ensure that every new lead gets the same preliminary information about your business.
Offer Referral Incentives
It's a fact that more clients will want to provide a referral if they get something in return. Whether you offer discounts, free shipping, promotions, or credits, it's a great idea to sweeten the deal for participating customers.
How We Earn Referrals at Acquirent
Acquirent's team of professional sales development reps are experts in the sales process from start to finish. We prioritize finding high-quality leads that meet your ideal customer profile and show genuine interest in your company. Through our extensive professional network and using the best in sales enablement technology, we're able to gain relevant referrals from peers within the industry. Ready to get started? Contact us today!