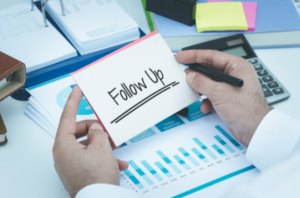 Are You Following Up on Your Sales Calls?
Creating a consistent follow up strategy is the key to sales success. After establishing initial contact with a prospect, follow ups remind your prospect about the benefits of your service.
But following up isn't always as simple as a thank-you email or phone call. Having a strong sales cadence makes all the difference when it comes to confidently approaching conversations and making the most of new connections.
What is a Sales Cadence?
Sales cadences are a series of follow up steps designed to streamline the process for your reps. Think of a sales cadence as a roadmap, checklist, or schedule. A successful cadence takes into consideration multiple follow up strategies and organizes touchpoints into a cohesive and consistent process.
A sales cadence starts when a sales rep first contacts a prospective client. Then, the cadence outlines a follow up strategy based on each individual prospects' market, persona, region etc. Since your company is likely targeting several different demographics, it's important to have a few separate sales cadences for your reps to follow depending on the target audience.
The Elements of a Sales Cadence
The distinct timelines and communication methods for your sales cadence will vary depending on the target audience.
Target Audience
Identifying your target audience is the first step when building an effective follow up schedule. Certain clients prefer to communicate over email or phone, while others prefer social media. Your target audience will dictate the communication mediums you select as steps in your timeline.
Medium of Communication
Sales follow up mediums have blossomed over the last decade. With the rise of social media, opportunities for connection have increased. Despite the prevalence of social media as a communication medium, the three most popular methods are email, phone, and LinkedIn.
Number of Contact Attempts
Your sales cadence will outline the number of times you follow up with a client after initial contact. Deciding how many times to send emails or make phone calls is part of what makes following up so stressful. When you have a concrete plan, following up becomes less intimidating.
Duration of Attempts
Most cadences adhere to a specific timeline. Whether follow ups are spaced out over a few weeks or a couple months, the duration of the attempts should be consistent across the board. This helps your sales reps keep track of where they are in the sales process with each client and provides a standard framework for your sales funnel.
The Benefits of Email, Phone Calls, and LinkedIn
Follow up tactics set the tone for your relationship with your client. Choosing the right method is a crucial part of developing your cadence.
Email
Emails are the tried-and-true gold standard for follow up strategies. Quick to send and personal without being invasive, dropping your prospect an email is the way to go for casual communication. Emails are easy to personalize, which makes them an ideal communication method when you're trying to connect with your client without being too pushy.
Phone
For some, phone calls feel too invasive. However, there's something to be said for speaking to someone directly. Phone calls are a great way to answer specific questions and provide your prospect insights into your product. Keep getting sent to voicemail? It's okay to leave a short, pleasant message with your name and contact information.
LinkedIn
LinkedIn is the ultimate business-oriented social media site. LinkedIn provides a user-friendly platform for casual communication where you can touch base with prospects through sharing content and commenting on posts. Once you feel like you've broken the ice, you can send a direct message to prospects introducing yourself and your company.
What are the Benefits of Developing a Sales Cadence?
Sales cadences diversify how you reach your prospects. Nowadays, omnichannel approaches to client communications cater to a fast-paced, dynamic workplace. Sales cadences provide reps with a consistent template to follow, so sending the next  email doesn't feel as daunting. Ultimately, reps who follow up consistently with their prospects have a better overall conversion rate. This is why developing your sales cadence is so vital.
At Acquirent, we provide outsourced sales development services, marketing management, and sales rep training to help our clients streamline their sales process. Drawing from our wealth of experience, the team at Acquirent can help you develop your sales funnel and craft an effective sales cadence.