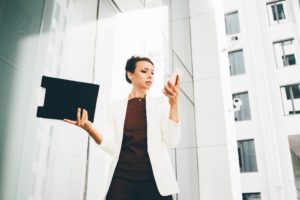 3 Ways Understanding Your Buyer Persona Closes Deals
When closing deals, your sales team is walking on thin ice – sometimes the only thing that can keep you from losing a deal is understanding your buyer persona.
Depending on the length of your sales cycle, there can be a fine line between keeping the customer interested, and making a small mistake that ruins the business relationship. Closing a deal is challenging because buyers are consistently changing how they make their purchase decisions.
However, if your marketing team has developed and fine-tuned a buyer persona backed by extensive research, then your sales team will close deals efficiently and consistently. Just make sure the buyer persona is integrated into the sales cycle. In this blog post, we're diving into how the perfect buyer persona will help close deals faster. First, let's understand what a buyer persona is.
Understanding a Buyer Persona
A buyer persona includes research-backed insights and facts that represent your business's ideal customer. You can think of a buyer persona as a picture that you get when you research your actual customers. One of the best ways of researching your ideal buyer is by interviewing your customers.
A persona generally includes intangible elements that go beyond the basic demographics. A well-researched buyer persona will carefully include your target audience's psychographics. For example, your business's ideal customer may be a female in the 24–30 age bracket, Caucasian, employed, and dwelling in an urban area. It might include patterns such as their interests, web browsing history, or even how they travel to work.
Put simply, a buyer persona will describe who your ideal customers are, what's their #1 challenge, and how do they make buying decisions.
Every detailed buyer persona will help answer questions such as:
Which content format will be more likely to generate a favorable response from your customers and prospects?
What's the way your prospects prefer to interact with your sales process?
Which is the problem that your customers and prospects want to solve? How will your solutions and products help solve those problems?
Now that you have a clear understanding of what a buyer persona should include, let's analyze how forming an ideal customer profile will help your sales team close deals fast.
How does a buyer persona help close more sales deals?
Here are three ways by which an ideal customer profile will help your sales team close more deals.
Delivering timely information
The insights you receive from an accurate buyer persona are invaluable because they give your sales team the capability to deliver information on time and regularly. An ideal customer profile will help you understand the process your prospects will likely go through before making the buying decision. Once your sales team has this crucial information, it'll easily and quickly organize the marketing collateral that'll give audiences the right information at the right time.
Optimizing the sales cycle
Accurate knowledge about future customers will help your sales team to effectively communicate with your ideal buyers. If your sales team has access to an accurate persona of your future customers, it'll know about the most suitable communication channel and time to reach the prospects. For example, if your ideal customer prefers to be contacted in the evenings through text messages, then sending lengthy voicemails around 9 am won't move the needle.
Finding qualified leads
A detailed understanding of the buyer persona delivers insights into identifying quality leads that are in the midst of the purchasing process. Attracting leads is good—but if they're not ready to move ahead with the buying decision, then they won't become customers. When your sales team has an idea of what your ideal customers look like, it'll focus on only those leads that are ready to buy. A detailed buyer persona will uncover details that'll help you identify quality leads that are ready to become customers and add to your bottom line.
Want to make accurate buyer personas that boost sales?
Designing a buyer persona and incorporating it into your sales cycle may become challenging if you lack the support of a seasoned marketing team. To help you get started with preparing accurate buyer personas, we at Acquirent have you covered.
We have a team of marketing experts and sales professionals who have years of experience in designing detailed, well-researched, accurate buyer personas. Our team will work closely with your business team to design the perfect persona of your ideal customer and integrate it into your sales cycle through active listening and understanding your customers' needs. This way, your business will be able to make the most of your ideal customer profile.
Get connected with our sales and marketing team today and explore how knowing about your target customer will help you close deals more efficiently.