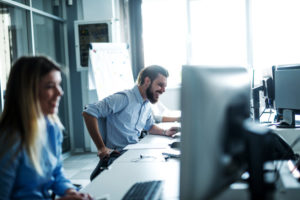 What Should Outsourced Sales Leadership Look Like?
Leadership is integral to building successful outsourced sales models. As a business owner, you'll require a team of sales leaders whom you can trust, especially if you're operating in multiple locations. When your leadership is weak, your sales quotas take a hit.
Historically, SMBs haven't possessed the resources to invest in full-time sales leaders. In small- and medium-sized businesses, often the presidents, owners, or CEOs are responsible for managing day-to-day sales operations. Most of these individuals may possess amazing leadership skills, but they may lack specific experience in sales leadership. By outsourcing this part of their responsibility to an outsourced sales leadership, they can build their core strength and effectively drive their business growth. Having outsourced sales leaders will help SMBs implement proven sales processes. These processes, in turn, help build a proactive and robust sales strategy that'll serve a business for many years down the line.
However, you can't partner with any outsourced sales leadership team just because it "claims" to be the best on the market. That's why it's important to know the traits that make an outsourced sales leader exceptional. In this blog, we'll walk you through the characteristics that every ideal outsourced sales leadership should have.
Three traits that make outsourced sales leadership
Outsourced sales leadership brings extensive experience in hiring sales talent, building a strong sales team, leading it, and putting the technologies and processes in place to boost growth. Outsourcing an experienced sales leader will help build sales processes from scratch and execute them. That way, businesses can drive revenue at a fraction of the cost required to hire a full-time sales leader. Here are three characteristics that make outsourced sales leadership good.
Communicate effectively and regularly
An outsourced sales leader has to be a pretty good communicator. Communication plays a vital role in enabling the outsourced leadership to expand your business into new territories, develop fresh products, and the like. An organization's success depends on multiple business aspects including marketing, sales, accounting, customer acquisition, and more. An outsourced leader's communication skills will play an integral role in each of these business aspects and will ensure an organization's continued success in the future. Additionally, sales leadership should often communicate with its sales team regularly and effectively to inspire confidence.
Continually evaluate sales teams' performance
Outsourced sales leaders will constantly evaluate the performance of your sales team. The leadership's continual evaluation will gauge the quality of every interaction happening between clients or prospects and sales reps. These evaluations will help the leadership give constructive feedback for meeting sales targets and setting new ones. Besides, an outsourced sales leader will also implement comprehensive quality assurance programs for sales teams. These programs will go a long way in improving your sales reps' performance and aligning an outsourced partner's expertise with your company's objectives.
Work with the latest sales tech stack
Outsourced sales leaders should have the expertise of working with a comprehensive sales tech stack. The leaders should not only understand but also operate sales enablement tools. Having knowledge of using the latest software packages will help the leadership streamline most time-consuming sales processes. The best outsourced sales leaders often leverage cutting-edge technology to execute conversations that can successfully attract prospects through funnels. Also, sales leaders must have deep expertise in working with different types of sales acceleration tools and analytics software that can improve the efficiency of a sales cycle.
Acquirent's outsourced sales leadership programs
No doubt, outsourced sales executives can bring a world of difference during their limited engagement. Outsourcing sales leadership has multiple benefits including strategically positioning your company and unlocking sustainable and rapid growth. Besides, an outsourced sales leader brings highly skilled sales expertise without the administrative and operational burdens that come with full-time resources. However, finding outsourced sales leadership is easier said than done until you've found Acquirent.
A Chicago-based B2B sales and marketing company, we, at Acquirent, have a team of sales leaders who've outsourced their expertise to small- and medium-sized enterprises. We've outsourced our sales leadership to many businesses for boosting their growth. Our sales leadership uses the latest sales enablement tools and technologies to help businesses build, implement, and execute cutting-edge sales processes that deliver returns. Contact us today for more information about our services.