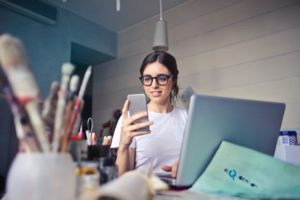 Three Ways To Engage Customers With Effective Emailing
Effective emailing can make or break your sales process. If you're like me, hundreds of emails flood your inbox every day and many of them go unnoticed. Even with my spam filter working overtime, I find myself deleting (or more often, ignoring) many of the things sent to me. In spite of this, email remains a crucial and effective tool for developing and maintaining relationships with new and existing customers. How? It isn't about the emails that miss, but the ones that hit.
Effective email usage depends on several traits, and pairing it with an effective cadence is essential to getting a response. We've already written before about emailing, but this article will delve a little deeper – writing the email, when to send it, and when to hold off. Download our PDF on a basic structure and strategy of how these emails should look.
Effective Emailing Starts With The Language
If you want to write a good email, start by making it engaging to the customer you are looking to target. You can't target each person individually, so you'll have to be a bit creative. This starts with a title that people will want to read.
What emails do you open up? Many people are drawn to listicles, or subjects that seek to answer a question. The title of this article may have drawn you here by utilizing this strategy. Let's get meta. It gives you a three step process on how to write better emails. It also resolves a problem – you're struggling with emails, and this article is offering a solution for you. Emails with subjects that directly offer this answer are also a good method. We could have alternatively titled this "How To Get People To Open Up Emails" or "The Secret to More Email Engagement" – it follows the same strategy.
Some people will attempt to leverage network connections in their email headings. This can sometimes be effective, but adds a bit of a creepy factor to it. I recently got an email with no relationship to my field saying that their spouse was an alumni of the college I went to. I found this off-putting, leveraging a networking point that I wasn't particularly interested in. How did they know where I went to college?
We've written more about how to write emails effectively. Now we're going to turn more to the strategy of these emails.
When Do I Send an Email?
Volume and repetition are two key indicators to generating email response. Placing them into your call cadence will serve several purposes.
First, it shows that you have interest in following up with them about your product or service. You're proving that they're not just a number to you (even if they are) – they will benefit from what you have to offer.
Second, it serves as a reminder that you gave them a call. People have busy days that don't involve you (can you even remember what you were focused on three hours ago?) You're operating on another person's timeline – giving them the space and opportunity to respond will increase engagement.
Third, when your voicemails and emails stack up in an organized manner, it trains the reader into learning more about what you are offering. People may not remember a commercial the first time they see it, but by the seventh time they're singing the jingle that comes along with it.
The times that you choose to send out emails have to be structured along with your call cadence to be effective. They should also be oriented by what happened on that call. An email should be different for the times you get a voicemail versus the times that they pick up the phone. Confusing emails unrelated to the call should be avoided at all costs – it confuses and frustrates customers.
Effective Emailing Generates a Response
Common sense is the best measurement on when to send an email. But there is no reason not to try implementing it into your call cadence. As a best practice, send an email after every call that you have that doesn't end with a firm "no". If you've tried reaching out to them several times with no luck, send out a last chance email to them. Make sure that every email contains valid contact information to you, and give opportunities for them to reach out to you.
Effective emailing starts with a plan. Know your product, know what your customers want, and let them know you have the solution to their problems. The sales will follow.