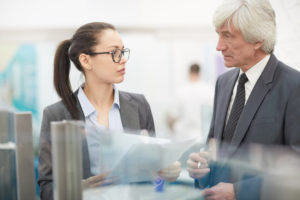 The Two Key Players in Returning to the Office
On May 13, 2021, the CDC came out with a surprise announcement that paves the way for returning to the office: the end of mask restrictions for those who have been fully vaccinated. Many – even epidemiologists familiar with COVID-19 – did not expect this news to arrive so early.
As a business owner, the ball now lies in your court as to whether you return to the office. In this blog, we examine the two key players in the decision to return to the office: salespeople and clients.
Salespeople vs. Clients: Who Benefits from Returning to the Office?
In the world of B2B sales, owners and operators have two groups that they must please: the clients they serve, and the salespeople they manage. These two parties are the arbiters that should guide your decision to return to the office.
Salespeople
Employees are divided on their opinion on returning to the office. Not going to the office means less time spent on long commutes. It means employees can spend more time with their families. However, this opinion is hardly universal: many also miss seeing their old coworkers and have difficulty delineating boundaries between work and home. There is no unified consensus, but people on both sides are quite adamant about their opinions regarding this. Some are even refusing to return to the workplace.
As a leader in your organization, the decision is ultimately yours, not theirs. However, making an unpopular choice may lead to a mass exodus of people from your team. As the economy reopens and people have saved money throughout the pandemic, the job market is becoming favorable to workers. Some have even predicted a "great resignation" due to the number of people who had intended to quit during the pandemic but could not due to financial stability concerns.
Look towards your key performers before coming to an easy decision about returning to the office. How have they fared during the pandemic? We've seen some of our best salespeople become less effective during the past year, while other mid-level performers have risen to the top with at-home work. Our workplace has focused on a collaborative open-office concept. This works better for some salespeople than others.
If you're unsure about what decision to make, a gradual approach may be ideal. Set a date for certain people to return to the office. If the response is positive, proceed forward.
Clients
As a sales organization, clients who utilize our outsourced sales services like to see what they're getting. This is why we've always invited people into our office to get a feel for our sales culture.
Of course, during the pandemic, our sales culture has had to go fully remote. While some of our salespeople are happier for it, the electricity of our office culture has dissipated. It gives us less to show about what makes our company special, even if our entire sales team is still engaged in continuous improvement.
Outsourced sales teams rely on their ability to meet the needs of clients. This is the fuel of the fire of a great salesperson. While we are dedicated to making Acquirent a great place to work, it is ultimately client needs that drive each and every decision that we make.
What do your clients demand of your organization? If they are okay with some of your staff working remote, and you aren't having difficulties implementing this – go for it! But their needs always come first in the world of outsourced sales.
Returning to the Office Means a Commitment to Delivering Success
"Not Always or Never" has been Acquirent's guiding principle throughout the pandemic. It's part of what has allowed us to succeed and grow as a company over the past year. As we consider the question of returning to the office ourselves, our thoughts turn to both our clients and our employees.
What is the best option here? Nobody can say for certain, but experts like Dr. Adam Goodman suggest that within five years, most organizations should return to their pre-pandemic structure. He believes the connectivity of a distributed workforce is lost in the process of going remote. People lose loyalty to a company they don't have to interact with every single day.
Leadership is about making tough decisions. Returning to the office is one of them. As we weigh the options ourselves, we look towards the idea of community. It is what has made us a global leader in the world of outsourced sales and marketing.
How can Acquirent help your business? Our sales team has helped businesses ranging from exciting startups to Fortune 500 companies achieve success across verticals. Contact us today for more information about what makes us so great!