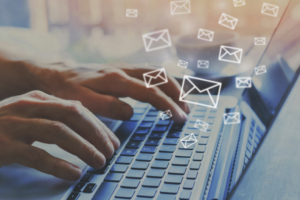 Should I Write a Personalized Cold Email?
While sending a personalized cold email is a great sales technique, it's not the right fit for every company. If you're on the fence about whether or not personalizing your cold emails makes sense for your business, you should consider several factors including the volume of emails you plan to send, and the time you can dedicate to crafting personalized emails.
There are pros and cons to sending cold emails, and we've compiled a helpful overview so you have all the information you need to decide whether or not this marketing technique is the right fit for you company.
What is a Cold Email?
A cold email is an unsolicited email communication sent to a prospect in the hopes of generating new business. Like cold calls, cold emails require time and dedication, as many emails go unanswered and therefore consistency is the best route to success.
Cold emails should provide your prospect with information about your company in a concise and easy-to-read format. You want to provide enough information to capture their interest, without leaving them feeling overwhelmed by an abundance of detail. Personalizing a cold email can provide a less mechanical approach that makes prospects feel that their needs matter.
What Are the Pros of Personalized Cold Emailing?
There's no doubt that personalizing your cold emails yields positive results. In a sales climate where consumers focus on value-based selling, personalizing a cold email demonstrates your ability to cater to a customers' individual needs.
Personalized cold emails set your pitch up for success by demonstrating your interest in a clients' experience and needs. Decision-makers receive hundreds of unsolicited emails, so standing out from the crowd is essential if you want to catch a prospects' attention. Personalized emails have a higher response rate, since prospects are more likely to interact with unsolicited communications that come across as authentic and are sent by a real person, rather than an automated service.
Additionally, personalized cold emails are more likely to be delivered into a prospects' inbox instead of being caught by the spam filter. The more unique and varied the email is, the less likely it will be tagged as spam.
What Are the Cons of a Personalized Cold Email?
As effective as personalized cold emails can be, they aren't the right strategy for every business. One of the major cons to personalizing cold emails is that they are incredibly time consuming. If you don't have the people-power to dedicate to crafting cold emails, then it might take up too much time to be a viable option.
The time-consuming nature of writing a personalized cold email is directly related to the volume of personalized emails you're planning on sending. A company who is sending out 5-7 emails a day will have no trouble personalizing those communications, but if you're engaged in a large-scale campaign and sending out 100 emails a day, personalization just isn't realistic.
The Best of Both Worlds
If you're interested in personalizing your emails but aren't sure the scale works for your business, consider prioritizing personalized emails for high-profile clients. Instead of taking the time to individually craft every email you send, estimate a realistic volume and dedicate your personalization for emails that are higher stakes. This way, you can gain some of the benefits of personalization without needing to compromise on reaching a large volume of prospects.
Tips for Personalizing a Cold Email
Personalized emails need to be eye catching, informative, and compelling. To this end, it's important to do research about your prospective client before sending the email, and include details about their business in your communication.
Pay Attention to the Subject Line – Don't rely on generic or "by-the-book" subject lines for your emails. Formulate subject lines as questions or exclamations to grab your readers' attention. Keep subject lines brief and snappy.
Emphasize Connections – You'd be surprised how small the professional world can be. If you're researching a prospect and discover a connection, make sure you emphasize it in your email! If you found your prospect through a mutual acquaintance or professional recommendation, it's important to highlight your shared connection.
Use Specific Information – This might be an obvious point, but it's crucial to consistently use your prospect's name in your email. This shows that you did your research, and are specifically interested in talking with the prospect about their needs. Emphasize how they can use your product as a solution to their problems, rather than focusing on closing the deal.
Follow Up – Always remember to follow up with your leads. Follow up emails often require patience and repetition, but it's essential to demonstrate that you're invested in your prospect's needs. Make sure each email brings something new to the table, so your prospect sees value in your communications.
Streamline Your Email Campaigns with Acquirent
Launching a new marketing campaign is time-consuming at best, and overwhelming at worst. At Acquirent, we're here to help your business streamline your cold emailing strategies by offering high-quality marketing techniques and lead generation support. Our team of professionals works closely with our clients to provide unique solutions and strategies to address all your lead generation, marketing, and sales management needs.
At Acquirent, we emphasize a friendly, collaborative environment. With our high-quality tactics, sales enablement technologies, and enthusiastic SDRs, we want our clients to know that they'll be set up for success.