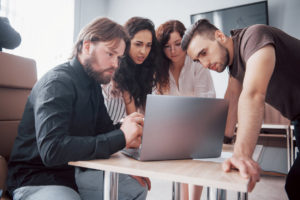 When You Outsource a Sales Team, What Fuels Their Fire?
When companies outsource a sales team, they tend to see a dramatic spike in sales within only a couple of months. Like pouring gasoline over a small fire, the results can be explosive. But as anyone who has spent time with a barbeque knows, that fire needs tending to keep burning.
This is the core of our business. Understanding what makes salespeople tick, and motivating them not only to perform at their best, but keep getting better.
If you've spent any time looking into how to outsource a sales team, you might be wondering "what makes these teams special?" After all, you've likely spent some time internally trying to figure out sales operations. Why bother outsourcing sales if you can do it in-house?
In this blog, we investigate what fuels a sales fire in our own organization, and why using outsourced sales can help you scale rapidly to meet with a surge in demand for your product or service.
Outsource a Sales Team For the Heat, Keep Going to Tend the Flames
What many organizations that are looking to boost their sales prowess lack can be broken down into three components: resources, technology, and scalability. Acquirent's model is designed to address all three of these elements.
We've worked with organizations ranging from exciting startups to large Fortune 500 companies. We have the flexibility to fit into any size company because we understand our niche.
Let's imagine a company that falls somewhere in between. They might have a couple of salespeople on staff already – they're likely to be fairly seasoned, and as a result, find themselves doing more lead generation and less closing. These salespeople are experts on your product, and are best served by doing what they do best: closing deals.
Hiring outsourced sales development representatives or business development representatives can help ensure that they're getting a steady stream of pre-qualified leads. These teams can scale to suit the needs of your business, and already come equipped with all of the training they need to start scheduling appointments.
As our teams have CRMs and other sales technology in-house, no investments need to be made in expensive sales tools. Results on our efforts can be shared as often as you'd like, and we are constantly recalibrating our efforts based on our calls.
Five Pillars of Sales Success
When you outsource your sales team, you need both accountability and assurance that they will be performing at optimal levels. Acquirent's strategy leverages our sales professional's natural talent along with on-going sales education to keep them at the top of their game.
Our sales model is based on what we call our five pillars of sales success. It is an all-encompassing model that takes into mind the psychology of individual salespeople. It feeds into their hunger to close more deals, and keeps our teams strong.
Positive Attitude – A happy salesperson radiates positive energy. They come in to work ready to close deals, and happy to perform their best. It's part of our strategy of earning the small yeses to get the Big Yes.
Ask Good Questions – We can only sell when we know what makes prospects tick. Asking good questions ensures that we understand the needs of our customers. We use this information to calibrate our
Shut Up and Listen – Too many salespeople talk themselves out of deals! At Acquirent, we teach active listening, which encompasses techniques that show we care. By listening carefully to the needs of our clients, we can poise ourselves to close bigger and better deals.
Product and Industry Knowledge – The best salesperson is an expert on their product or service. Product and industry knowledge allows us to respond to prospects with informed speech. We do our research ahead of time and learn as we go, and pass what we see back to you.
Grit – Sales isn't easy. Cold calling is met with constant rejection, and isn't for everyone. Our culture is built on positivity, so even after we hear a no, we're ready to keep calling.
Ready to Outsource Your Sales Team?
If you're ready to start seeing sales success, then you need experts on closing deals. That's where we come in. Acquirent is a leading provider in outsourced sales success. As we near the end of COVID restrictions, we are raring to go and ready to close!
Contact us today for more information about our services.