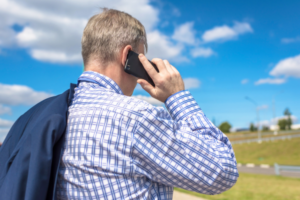 Industry Trends in Sales Follow Up Strategies
For most businesses, successful sales are a result of consistent follow up strategies. We get it, cold calling can be discouraging. But although you might feel the door has closed after a discouraging first cold call, effective sales teams know that following-up with consistent, personal, and diverse messaging often leads to securing a client down the road.
Like many aspects of sales and marketing, follow-up strategies have evolved over the past year to accommodate the new work-from-home model. While old fashioned in-person follow up meetings might be less common nowadays, there are still plenty of ways to connect with prospects remotely.
Here are our picks for trending follow up strategies in 2021.
Email Follow Up Strategies
Emails are quick, snappy, professional, and just the right degree of personal. It's no wonder that emails are a popular method of following up with a prospect after an initial meeting. When it comes to sending emails, don't be discouraged if your first few attempts are unanswered. In fact, research shows that it can take up to five follow-up emails before a prospect responds.
Emails should be:
Consistent – Don't let unanswered emails discourage you. Continue to reach out! Additionally, it's important to send out emails that are consistent in tone and content. According to an article in Forbes, "having a clear and consistent system is necessary for showing your prospective and current clients that they are dealing with a professional business that cares about them."
Personal – Emails are a great way to circle back to prospects and demonstrate your interest in solving their unique problems. Working from a general template but adding personal touches makes an email feel more genuine.
Innovative – Ditch email templates that feel bland or predictable. Instead, try using messaging that offers customers new information about the product, resources, or a way to interact with your website. Send emails with snappy and attention-grabbing subject lines.
Social Media
Social media is another popular follow up method in today's technology-savvy professional world. Reaching out over social media is a more casual form of communication, and often relays a laid back and conversational tone. Messaging a client on social media, following their pages, or "liking" recent posts indicates you are engaged and curious about their brand.
Following up with social media is a great compliment to other follow up strategies, just be wary of coming across as pushy or overly sales-oriented. You don't want a client to feel like you are bombarding them across multiple channels.
Phone Follow Up Strategies
Phone calls are perhaps the most "classic" follow up method listed here. However, with today's updated communication technology, it's easy to make phone calls into face-to-face meetings. If possible, try to get prospects to commit to a subsequent phone or video call appointment during your initial meeting.
Although phone calls might feel old fashioned, it's still a tried-and-true method for connecting with a client, understanding their needs, and forming a professional relationship.
How to Take Your Follow Up Strategies to the Next Level
Don't let follow up strategies become an afterthought. When utilizing follow up strategies there are several methods to set yourself apart from the competition.
Make a Schedule – If you're using multiple channels of communication to follow up with prospects, we recommend making a follow up schedule so it's easy to keep track of your progress. This means literally mapping out day-by-day how you're going to connect with your prospect whether that's by phone, email, social media, or a combination of the three. This keeps you organized, and takes the stress out of deciding how to reach out in the future.
Make Each Connection Count – Instead of following up "just to check in" make each communication worthwhile. This means that you're tailoring content to appeal to a prospect's needs and offering them continued resources through all channels of communication. Don't waste an opportunity to demonstrate to a customer how your product is uniquely suited to solving their problems.
Be Respectful of Their Timeline – Although you want to do your best to engage your prospect at every step of the process, be respectful of their timeline. They may not be ready to make a decision about engaging with your product, and hassling them will only make them feel badgered and stressed. Convey to them that you want to work within their schedule.
Streamline Your Follow Ups with a Business Development Company
Instead of placing follow up responsibilities on your in-house sales team, make your life simpler by partnering with an experienced outsourced business-to-business sales company.
At Acquirent, we pride ourselves on providing clients with high-quality recruitment, innovative marketing strategies, and lead generation support. Acquirent is an industry leader in end-to-end sales funnel development, sophisticated sales technology, and transparent solutions.
Streamline your follow up strategies today by working with our team at Acquirent.