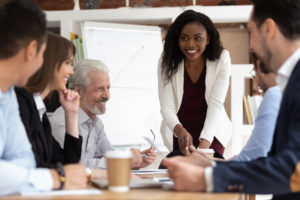 How Do Fortune 500 Companies Grow Business With Outsourced Sales?
Today, businesses need speed, scalability, and agility for unlocking growth – the leaders of Fortune 500 companies know this, and rely on outsourced sales for boosting business revenue. By harnessing sales outsourcing models, big businesses have already discovered fresh growth opportunities.
Additionally, a sales outsourcing partner helps businesses use the latest technology trends including marketing automation, data ownership, and the like. So, what exactly is sales outsourcing? In this guide, we'll explain sales outsourcing and its top three benefits.
What's sales outsourcing?
Attracting prospects. Identifying the ones that can qualify as leads. Warming up those leads. And, finally, closing the deal. These tried and true methods are the foundation of a well-developed sales cycle. However, optimizing the sales cycle requires a great deal of expertise, experience, and time. That's why more businesses, including Fortune 500 companies, are turning toward sales outsourcing partners for achieving their revenue goals when re-evaluating their sales process.
Sales outsourcing includes the use of third-party sales services, staff members, and external resources for building a sales cycle from scratch or fine-tuning the existing one. A sales outsourcing partner will leverage multiple inbound and outbound channels, including lead generation software, for optimizing a sales cycle.
Below are some of the ways sales outsourcing is transforming business for massive Fortune 500 companies across the globe.
Three ways outsourced sales is transforming Fortune 500 businesses
Targeting new markets
Like small and mid-size companies, Fortune 500 enterprises sometimes get stretched while serving new geographies and vertical industries. Companies often have fresh leads hidden in these uncharted markets; it's a matter of having free sales resources for pursuing these leads. That's where outsourced sales teams come in. The outsourced sales staff can help businesses explore new markets and nurture leads.
Going beyond technology constraints
Today, businesses are revamping their sales infrastructure. The new infrastructure now includes the capabilities for automating the sales cycle and creating data-driven sales processes. However, most big companies can slow down their sales cycle the moment they fail to embrace the most cutting-edge technologies.
Here's where an outsourced sales partner comes to the rescue. A trusted sales outsourcing team builds and maintains state-of-the-art sales ecosystems that are driven by data and the latest technology.
Breaking the siloed approach
A sales outsourcing team enables companies to effectively manage their outcomes, but the reality is that many internal sales organizations operate in silos. For example, an internal sales team of a company may not effectively collaborate with a marketing team. To top it all off, every team—whether sales or marketing—may prioritize departmental tasks instead of holistically tackling enterprise-wide issues.
To help break the siloed approach, sales leaders have started trusting outsourced sales teams. An external sales team will be well-positioned to work cross-functionally across the organization. On top of that, an outsourcer will also achieve sales goals in shorter timeframes; on the contrary, working on tighter deadlines is always challenging for internal teams.
Bringing a trusted outsourced sales partner on board to your Fortune 500 Company
The benefits of having an outsourced sales team are clear. However, it's challenging to find a dependable partner whose core capability lies in sales outsourcing. The right sales partner can bring a massive value-add to any business's sales cycle. Acquirent is one such sales outsourcer that helps businesses optimize their sales functions.
As a full-services sales outsourcing partner, we at Acquirent develop data-driven strategies that provide the sales insights for driving leads and boosting conversions. Our list of clients features everything from emerging startups to Fortune 500 companies, and ranges from industries from SaaS, healthcare, cutting-edge technology, and other solutions.
Connect with our team today and discover how its expertise will help you maximize the efficiency of your sales processes.