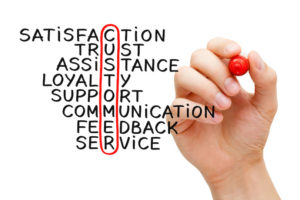 Building Rapport
Your Customer, Your Neighbor
Building rapport with your customers is key in getting their business. If they don't like you, they might not buy from you. Creating a positive impression also speaks well of the business you represent. Rapport means getting on well with another person, or group of people, making the sales process easier. Treat your customer as you would a neighbor.
 12 Tips to Establishing Rapport:
Do what you say you will do—if you promise to call them next week, call them next week.
If you don't know the answer, don't makeup something. –Tell them you don't know but will find out. This shows honesty and builds trust.
Be warm and friendly—if you're on the phone; be sure it comes across in your tone of voice.
Know your customer—do a little research on the client / company before making that call.
Recap your customer's responses / needs—this ensures you both understand their needs.
Repeat their name, while talking to them and in voice mail messages—this personalizes the call. When appropriate, use their first name (this includes the office assistant or "gatekeeper.")
Timing—know when to call and when not to call (i.e., if you're calling a restaurant, don't call during lunch / dinner hours).
Take good notes—when you contact them again, you can refresh your memory and help them feel like they aren't wasting their time.
Be respectful—you never know when that contact might get promoted to a position of higher power.
Get and use referrals—mention someone they know at the start of the call—they are more likely to pay attention and listen.
Stay positive and use positive words—let's fix this" instead of "oh, that sucks."
Use Humor. Laughing together creates harmony. Share a joke or situation about yourself (but never about other people).